Upcoming Masterclass on emotional value in UX
Join us for Frank Spillers's latest thinking on the topic of emotional value or desirability on September 17th 2020 at 3:00 PM GMT; 8:30 PM IST; 7:00 AM PST; 10:00 AM EST
What is Emotion Design?
Emotion Design is an approach within UX to generate emotionally engaging experiences for users. Understanding emotion as a design variable can make or break the underlying interaction and loyalty (or purchase intent) a user has with your product or service. Generating emotional value has a proven ROI. For example, the Tempkin Group has found that a positive emotional association with these brand results:
8.4 x more likely to trust the company.
7.1 x more likely to purchase more.
6.6 x more likely to forgive a company's mistake.
What emotional value look like across different contexts…
It's not just an e-commerce or retail trick. Emotional value and designing for emotions are critical across different contexts…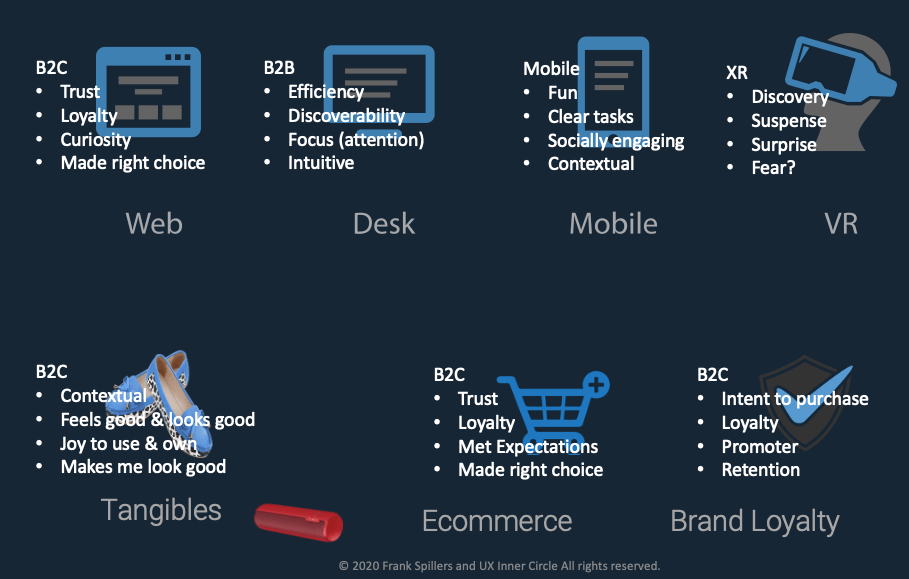 Here's a promo video for the upcoming Masterclass, where Frank Spillers will cover his latest Emotion Design Framework and more…