Back
How to Conduct Ethnographic Interviews- Masterclass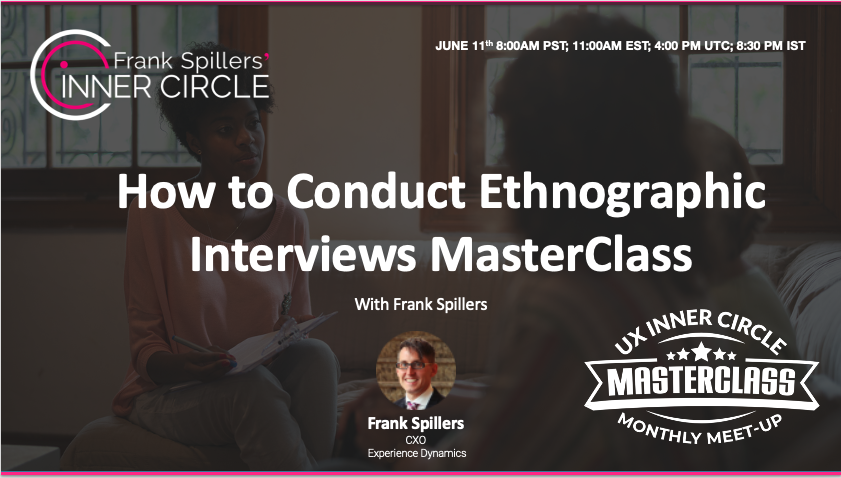 3 hours-(group activities, 1:1 access to Frank Spillers)
DATE/ TIME: June 11th 2021 at 4:00 PM UTC; 8:30 PM IST; 8:00 AM PST; 11:00 AM EST
Format: Zoom
Promo video:
Agenda:
The focus of this Masterclass is on How to Conduct Ethnographic Interviews. User interviews are one of the core methods for gaining an understanding of UX requirements. They lead to an analysis of goals, tasks, pain points, and opportunities. These evidence-based data end up as the driving insights that go into prioritization decisions, personas, and journey maps. But how to make sure you are interviewing without 'surveying' or 'focus grouping'? To be clear surveys and focus groups are market research techniques and are weak, inappropriate, and low on behavioral insight. This is why user interviews are very important to your UX process.
Anybody can interview, right?! However, making sure you are getting good data, without bias, assumption or agendas is really critical. In this Masterclass, Frank Spillers will guide you through tried and tested approaches for gaining the most from your time with users, in-person or online. He will share tips he has learned and invented for digging deeper into user interviews to get the most from user encounters. You will learn how to: Gain rapid rapport with users; Detect and identify artifacts and their meaning (physical, mental, social, emotional, and cultural); Handle subject matter expert interviews; Communicate user findings to stakeholders and most importantly how to apply insights from user interviews and behavioral observation to your design.
About Monthly MasterClasses:
These monthly meet-ups are topic-driven live events with an informal presentation by Frank Spillers and group activities and discussion. Monthly MasterClasses are included as part of your membership. They allow a deep dive into important UX topics, with insights drawn from process best practices and case studies from Frank's two decades in the field.
Cost:
VALUE of $100…join the UX Inner Circle to get this and enjoy access to $10,385 worth of value- recording trainings from 20 years of Frank Spillers's work.
FREE FOR INNER CIRCLE MEMBERS
Want to access the MasterClass? Join now starting at USD $49 Nonprofit-Student-Emerging Market/ $99 Individual/$349 Team of 4
---