Back
Masterclass- Touchpoint mapping and cross-channel UX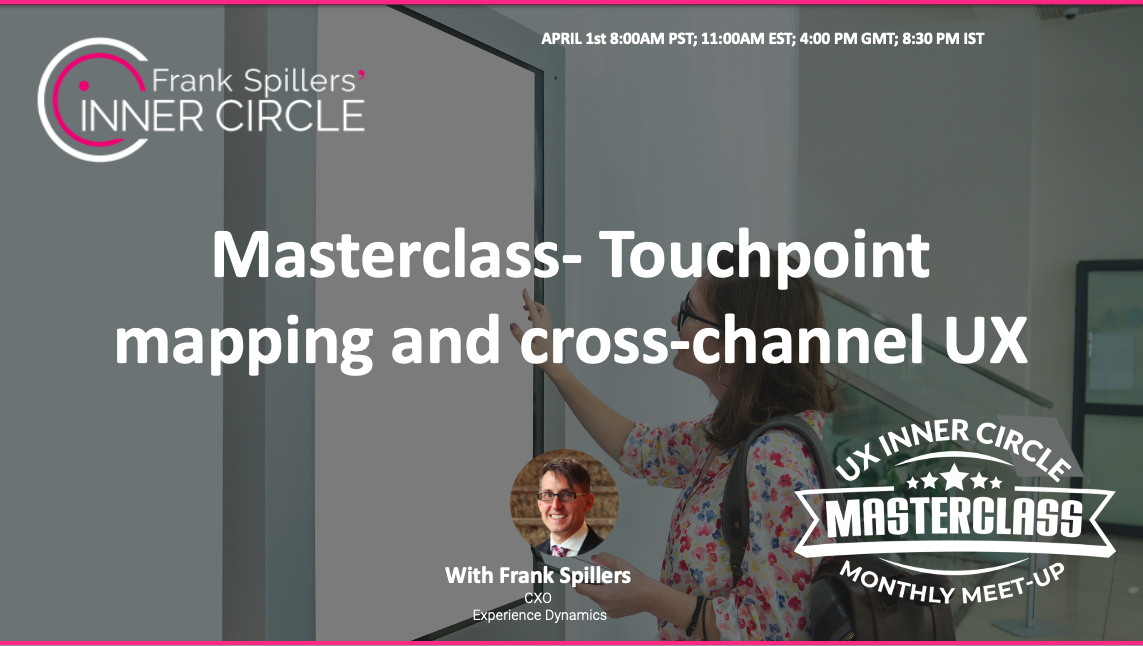 APRIL 1st 8:00AM PST; 11:00AM EST; 4:00 PM GMT; 8:30 PM IST
3 hrs
Buy this course and recording for $100 USD:
Agenda:
Products and service systems (think mobile app orders food delivery) rely on touchpoints. Touchpoints are value-rich exchanges between customers and your business. Common examples of touchpoints include information, help, advice, or consultation. Touchpoints occur when and where the customer wants them to occur. User behavior is "choose your own channel" (omnichannel) by default. It is for this reason that touchpoints need to be observed, optimized, and made consistently available across channels.
Channels are not touchpoints. Channels are just how a customer approaches your company (mobile, Chat, Web, call center, etc). Omnichannel interactions have become the default, whether your company is noticing or not. And there's the rub. Without a full inventory of customer interactions (via touchpoints) and an understanding of these touchpoints over time (a Customer Journey), you can be wasting money. For example, a mobile app that does not offer the same form hints as the Web version (because hover is not supported on mobile and designers used hover) caused users to enter the wrong information. This serious error required a call to the call center call (expensive to the company). Had the two digital channels in this example offered consistent hints to users, errors would have been prevented.
In this Masterclass we zoom into touchpoint mapping, an inventorying technique to uncover breaks in customer touchpoints. We will unpack actual customer data touchpoints and develop recommendations for optimizing touchpoints unique to that channel. This will offer attendees a mini-workshop experience or "learning by doing".
About Monthly MasterClasses:
These monthly meet-ups are topic-driven live events with an informal presentation by Frank Spillers and group activities and discussions. Monthly MasterClasses are included as part of your membership. They allow a deep dive into important UX topics, with insights drawn from process best practices and case studies from Frank's two decades in the field.
Cost:
VALUE of $100…join the UX Inner Circle to get this and enjoy access to $10,385 worth of value- recording trainings from 20 years of Frank Spillers's work. Try it for 30-days free…
FREE FOR INNER CIRCLE MEMBERS
Want to access the MasterClass? Join now starting at USD $49 Nonprofit-Student-Emerging Market/ $99 Individual/$349 Team of 4.
---