Back
Tackling Technical & Design Debt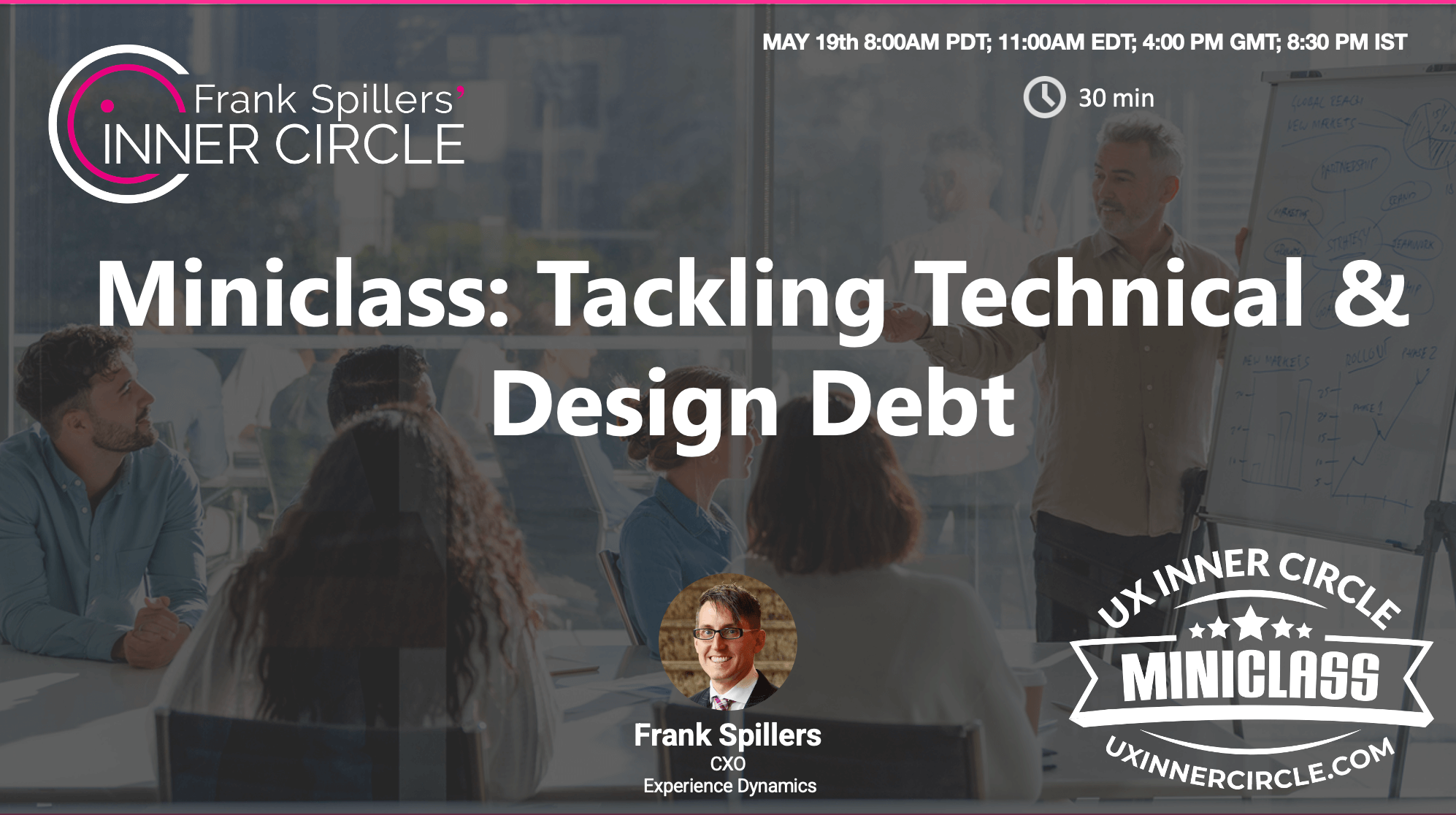 MAY 19th 8:00AM PDT; 11:00AM EDT; 4:00 PM GMT; 8:30 PM IST
What is Design debt?
"Design debt" extends the concept of technical debt. First, let us cover technical debt. According to Howard "Ward" Cunningham (Agile Manifesto), fast and quick software releases without focusing on quality and efficient code can result in problems downstream (debt). Likewise, cutting corners in UX process can lead to usability problems for users resulting in redesigns. Next, UX design debt has a negative relationship with technical debt. Finally, debt from UX activities typically occurs when users are under-involved or absent in a design process. However, design debt can also result from poor governance, such as when a Design System is not maintained or unified with adjacent Design Systems. This makes expertly managing UX design deliverables critical.
So, why is UX debt a big deal?
Like technical debt, debt from design occurs when corners are cut. First, technical debt (or poor coding practices such as ignoring UI or component reusability) amplifies UX design debt. Next, poorly practiced UX processes are correlated to poor UX ROI and weak UX maturity. That's why piling on problems for users, problems for developers and contributing to underperforming products or services should be avoided at all costs. Organizations excel when UX process is clear, collaboration with technical teams is strong (and democratic), and design is managed strategically as well as tactically. Debt is tempting, so finding ways to optimize process and stakeholder behavior is key in this discussion.
Steps to avoiding debt
Ultimately, the debt that stacks up from bad design and UX management shortcuts can be neutralized and avoided. Just as mastering consistency of interface elements can lead to better designs. Getting product managers and UX teams working well is critical. Furthermore, addressing technical as well as design governance together is a must. In this Miniclass, 30 minute webinar, Frank Spillers will cover strategies for addressing cultural practices that get to the root cause of UX debts.
Topics we will cover in this Miniclass:
Identifying debt from design activities
How to make stakeholders aware of it (process and behavior)
Top UX Management interventions to reduce and minimize UX debt
Q&A
About Miniclasses:
A brief, but deep-dive into a topic, led by Frank Spillers. The sessions provide an orientation to key points on a topic. The sessions are FREE to members of the UX Inner Circle. Apply to join, or try it free for 30 days…(billing starts month 2, cancel anytime). Also see: What kind of people join the UXIC?
---