Back
Product Managers + UX teams: working better together Masterclass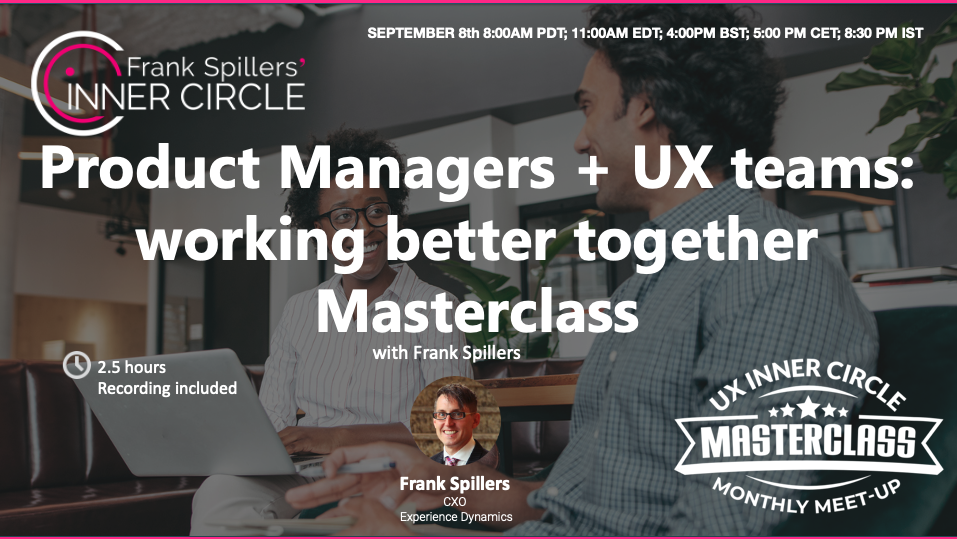 SEPTEMBER 2nd 8:00AM PDT; 11:00AM EDT; 4:00PM BST; 5:00 PM CET; 8:30 PM IST
2.5 hrs
Cost: Buy this course and get recording for only $100** USD:
Free for UX Inner Circle Members–Join now, cancel anytime.
Product Managers + UX teams: working better together Masterclass
Product management groups often manage, lead, or heavily influence UX teams. Product management ('Product') plays this role due to its close proximity to Engineering and 'the Business'. However, many product managers struggle to "play well" (get the most out of interactions) with UX process and team inputs and outputs. In Product's defense, this line of business inherited UX in many ways to save it from being incorporated as a sub-function of Engineering. However, product managers must understand specifically what value UX brings and how to work with UX teams better.
Many Product teams appreciate and thrive on UX input. As a result, the product managers that 'process share' with UX teams, can get more business value from UX. Therefore, UX teams play a strategic role in Product organizations that want to realize the ROI from UX. In this Masterclass, Frank Spillers shares tested methods for improving relationships and interactions between UX and Product.
Topics we will cover:
Defining roles: What UX teams do; what Product managers need; where the roles overlap
How to understand and influence a Product Manager and a UX team
Product management vs UX management
How successful products are managed for better UX
Product roadmaps vs UX roadmaps
Mapping of types of Product Managers (from worst to best) to collab, the archetypes & how to Manage the managers
Negotiating the MVP's, Backlogs and Agile UX
Key UX/Product collaborations- tools and templates
Resolving conflicting agendas and avoiding collaboration traps
Managing UX teams for better product outcome
About UX Inner Circle Workshops:
These workshops are live events with an informal presentation by Frank Spillers and group activities and discussions, with a more hands-on experience to learning the material presented. Online workshops are included as part of your UX Inner Circle membership. They allow a deep study of UX topics, with insights drawn from process best practices and case studies from Frank Spillers two decades in the field.
Cost:
Not a member? $100
Members: FREE…join the UX Inner Circle to get this and enjoy access to $10,385 worth of value- recording trainings from 20 years of Frank Spillers' work.
Buy this course and get recording for only $100** USD:
Why Join?
The UX Inner Circle is a professional learning community with a program of monthly events for UX researchers and designers, managers, and directors practicing UX and Service Design. We are a small group of currently 50 UX and Service Designers, Directors, and Researchers currently 100% working in UX. Attendees come from orgs like Harvard, Google, IBM, Accenture, Deloitte, Capital One, US Bank, healthcare, government, and non-profits. So why join?
Refine or expand your current skills– push the boundaries of your learning.
Get advice and guidance: Put a top-performing UX expert (Frank Spillers, CEO of award-winning UX firm Experience Dynamics and top instructor at Interaction Design Foundation) in your pocket. Stay connected with the latest on what Frank is thinking and prioritizing in UX and Service Design.
Ask anything to other UXIC colleagues on a dedicated private Slack channel. Also, collaborate during monthly meet-ups (Masterclasses).
Get a promotion at work or upgrade your skills, portfolio, or process knowledge. This is the #1 reason folks keep subscribing to the UX Inner Circle.
Ready to Join the UXIC?
30- Day Free Trial (billing starts month 2)
Membership includes access to ALL monthly event recordings and more (going back 20 years of Frank's UX career). 150+ recordings.  Monthly live meet-ups (Masterclass topics) and workshops (every other month). Miniclasses (short webinars) and access to longer webinars Frank provides with his UX firm Experience Dynamics.
Financial inclusiveness membership: USD$49 per month for Nonprofit-Student- or you live in the Global South/ Emerging Market (.org; .edu)
Regular membership: USD$99 Individual per month
20% discount on Annual Price; switch anytime, cancel anytime.
***THIS EVENT IS FREE WITH UX INNER CIRCLE MEMBERSHIP***
---