Back
Policy Design workshop- part 2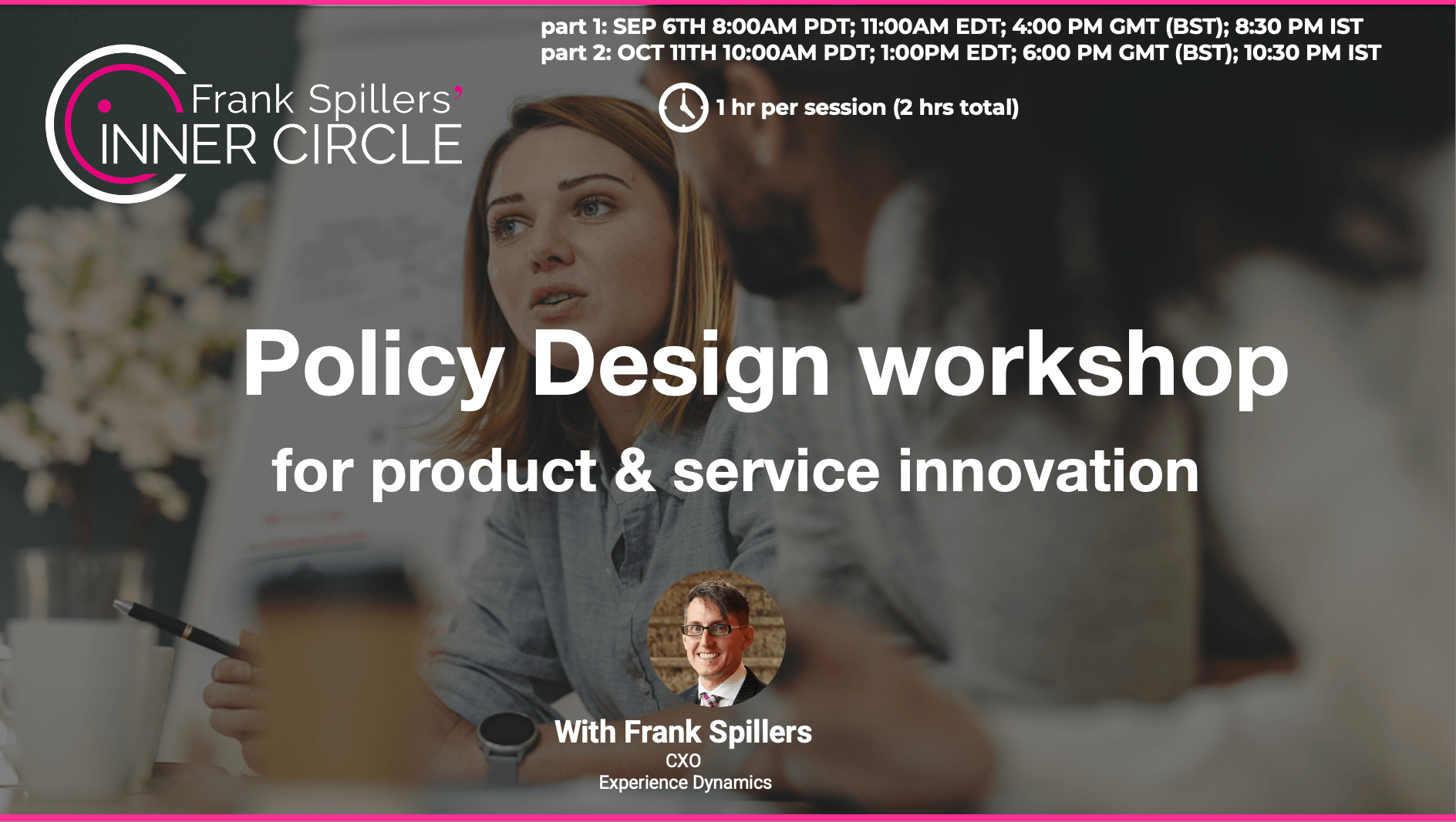 part 2: OCT 11TH 10:00AM PDT; 1:00PM EDT; 6:00 PM GMT (BST); 10:30 PM IST
Member Note: Part 2 starts two hours later than usual.
Cost: Buy this course and attend live or get the recordings for only $100** USD:
Free for UX Inner Circle Members–Join now, cancel anytime.
Why is Policy Design the mother of all leverage points?
Policy design refers to the deliberate creation and implementation of rules, guidelines, and protocols that govern various aspects of an organization's products and services. Take a common everyday process of logging into a website service, such as Microsoft Outlook 365. A policy of locking users out after eg. five attempts or of suspending an account with a message of "contact your administrator" can create barriers to access and erode customer satisfaction. Policy design says there's got to be a better way!
In Service Design, good policy design is integral to service orchestration.  For example, imagine policies that impact the quality and accessibility of education. For instance, policies that promote inclusive education by providing resources for students with disabilities or ensuring equitable access to educational opportunities for marginalized communities can help reduce educational disparities and foster social inclusion. Well-designed policies in this area can drive systemic change and create a more equitable and inclusive education system.
Policies are rules, and rules need to be deliberately designed.
While design strategy and organizational design play crucial roles, an often overlooked yet powerful tool for driving customer satisfaction and business success is effective policy design. Policies can serve as the backbone for organizations, shaping customer experiences and influencing their interactions and long-term relationship with the brand or product-service.
A policy in an interface or a service interaction among employees and customers reflects rules. Rules reflect decisions. The better your rules, the more intentionally noise-proof your decisions. "Noise," according to Daniel Kahneman, refers to how flaws enter human judgment. For instance, most business teams develop policies based on intuition, which can lead to flawed decision-making if not corrected with evidence of user behavior. In the UX field, this is a classic problem that causes downstream user experience problems. For example: "Make users do this, before they do that", or "First, we require they do this before doing the thing most desirable to them".
Policy Design is possibly the one tool to rule them all
Policy design is a critical element in improving products and services. By focusing on consistency, customer empowerment, and risk mitigation, well-crafted policies can accelerate user adoption and drive positive business results.  To stay competitive in today's fast-paced marketplace, organizations must prioritize policy design as a strategic tool for creating exceptional product and service experiences.
In this workshop, we will discover how to introduce Policy Design through a step-by-step approach to policy design.
Topics we will cover: (2 parts, 1 hour each)
Understanding the absolute power of policies on products and services
Diagnosing policy problems and framing policy challenges
The Policy Design Process
Steps to facilitating a policy design workshop with stakeholders
About UX Inner Circle Workshops:
These workshops are live events with an informal presentation by Frank Spillers and group activities and discussions, with a more hands-on experience to learning the material presented. Online workshops are included as part of your UX Inner Circle membership. They allow a deep study of UX topics, with insights drawn from process best practices and case studies from Frank Spillers two decades in the field.
Cost:
Not a member? $100
Members: FREE…join the UX Inner Circle to get this and enjoy access to $10,385 worth of value- recording trainings from 20 years of Frank Spillers' work.
Cost: Buy this course and attend live or get the recordings for only $100** USD:
Free for UX Inner Circle Members–Join now, cancel anytime.
Why Join?
The UX Inner Circle is a professional learning community with a program of monthly events for UX researchers and designers, managers, and directors practicing UX and Service Design. We are a small group of currently 50 UX and Service Designers, Directors, and Researchers currently 100% working in UX. Attendees come from orgs like Harvard, Google, IBM, Accenture, Deloitte, Capital One, US Bank, healthcare, government, and non-profits. So why join?
 Refine or expand your current skills– push the boundaries of your learning.
Get advice and guidance: Put a top-performing UX expert (Frank Spillers, CEO of award-winning UX firm Experience Dynamics and top instructor at Interaction Design Foundation) in your pocket. Stay connected with the latest on what Frank is thinking and prioritizing in UX and Service Design.
Ask anything to other UXIC colleagues on a dedicated private Slack channel. Also, collaborate during monthly meet-ups (Masterclasses).
Get a promotion at work or upgrade your skills, portfolio, or process knowledge. This is the #1 reason folks keep subscribing to the UX Inner Circle.
Ready to Join the UXIC?
30- Day Free Trial (billing starts month 2)
Membership includes access to ALL monthly event recordings and more (going back 20 years of Frank's UX career). 150+ recordings.  Monthly live meet-ups (Masterclass topics) and workshops (every other month). Miniclasses (short webinars) and access to longer webinars Frank provides with his UX firm Experience Dynamics.
Financial inclusiveness membership: USD$49 per month for Nonprofit-Student- or you live in the Global South/ Emerging Market (.org; .edu)
Regular membership: USD$99 Individual per month
20% discount on Annual Price; switch anytime, cancel anytime.
***THIS EVENT IS FREE WITH UX INNER CIRCLE MEMBERSHIP***
---