Back
Masterclass: Organizational Design- Building a UX Center of Excellence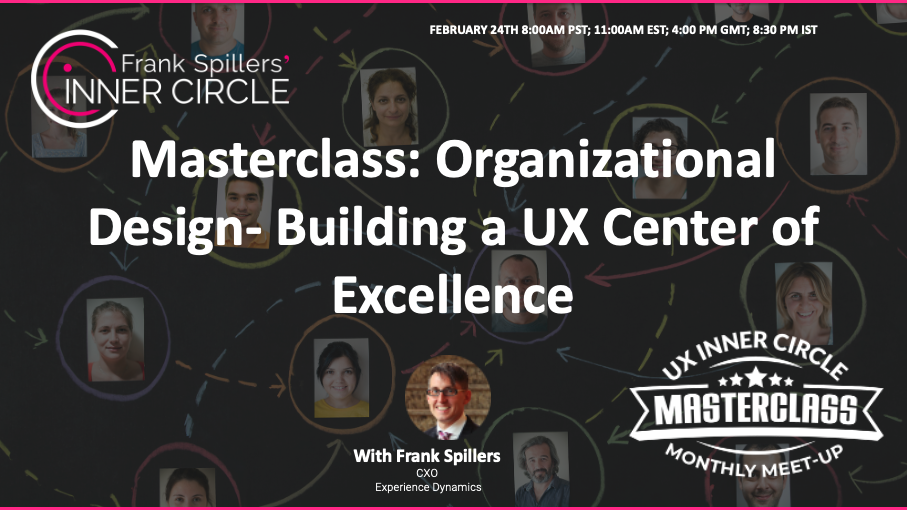 FEBRUARY 24TH 8:00AM PST; 11:00AM EST; 4:00 PM GMT; 8:30 PM IST
Agenda:
No matter where you are in the UX org chart, organizational design has always got to be on your radar. Why? Because UX in many organizations has been traditionally misunderstood, misrepresented, manipulated, or marginalized. Many UX professionals don't actually get to do the full complement of what they should be doing. This is a serious ROI issue for organizations that do not have a strategic view of managing UX excellence.
Building a UX Center of Excellence requires a clear definition of how value is created and shared with customers and stakeholders. It requires strategic intervention as well as tactical processes and procedures. Growing UX as a discipline requires nurturing buy-in, and participation from grassroots stakeholders (eg developers) all the way up to management.
In this Masterclass, we will build on the UX process case studies–UX management in action Masterclass by mapping out boundaries and pillars that need to be redrawn, removed, or created. Ultimately, organizational excellence in UX efforts comes down to team collaboration, decision-making, and the holy grail–process repeatability.
In this Masterclass, Frank will cover tips and techniques for 'redesigning' your organization based on what he has learned first-hand from helping dozens of organizations build UX groups. In addition, Frank will share research he conducted for his upcoming book on UX management (and the best-known methods of UX Directors and Managers worldwide).
Topics to be covered in this Masterclass:
How to manage UX deliverables for 'UX as a Team Sport' vs the 'everyone doing UX' dilemma.
Noticing your organization's actual vs perceived UX maturity, and how to bootstrap for growth.
Operationalizing UX excellence- tips and tactics for moving your org forward.
Developing a business case for UX Management and growth.
Understanding how to confront organizational 'force fields'.
A checklist for what helps establish a Center of UX Excellence.
Getting it right: confronting UX Theater, Baby Step Syndrome, and other threats to UX excellence.
About Monthly MasterClasses:
These monthly meet-ups are topic-driven live events with an informal presentation by Frank Spillers and group activities and discussions. Monthly MasterClasses are included as part of your membership. They allow a deep dive into important UX topics, with insights drawn from process best practices and case studies from Frank's two decades in the field.
Cost:
VALUE of $100…join the UX Inner Circle to get this and enjoy access to $10,385 worth of value- recording trainings from 20 years of Frank Spillers's work. Try it for 30-days free…
FREE FOR INNER CIRCLE MEMBERS
Want to access the MasterClass? Join now starting at USD $49 Nonprofit-Student-Emerging Market/ $99 Individual/$349 Team of 4.
---