Back
Essentials of User Adoption Masterclass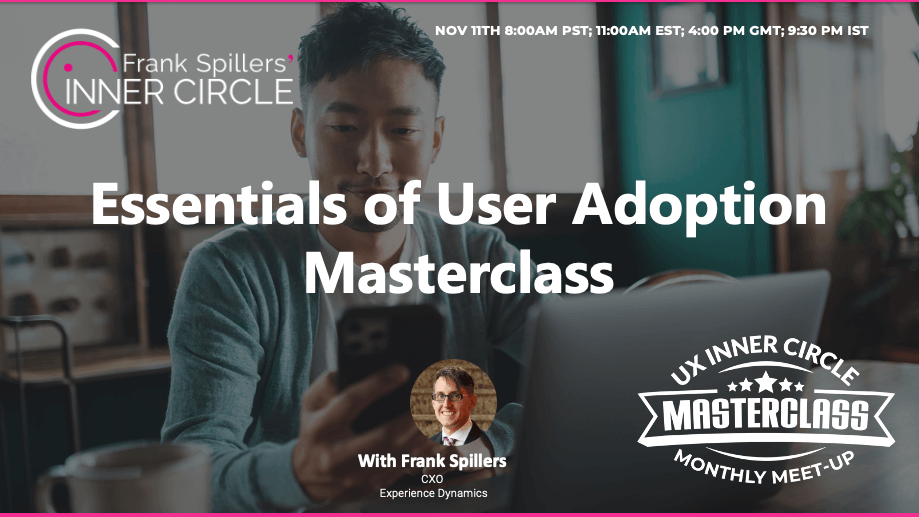 NOVEMBER 11TH 8:00AM PST; 11:00AM EST; 4:00 PM GMT; 9:30 PM IST
2.5 hours
Cost: Buy this Essentials of User adoption course and get it live + the recording for only $100** USD:
Free for UX Inner Circle Members–Join now, cancel anytime
Agenda- Essentials of User Adoption Masterclass
User adoption is likely the most important aspect of user experience work. If users don't come back, uninstall your app, or get frustrated using your app, user adoption will suffer. The goal of user adoption is habitual use. When a user "adopts," it means they like it so much it becomes natural to go back ("intent to return").
The data on the user adoption problem for mobile, for instance, does not lie:
Global consumers spend 90% of their time on only 18 apps, of an average of 40 installed apps (Simform 2021).
Users uninstall one in every two apps they download within the first 30 days. Further, 53% of uninstalls occurred within 30 days, while 45% happened within the first 24 hours! (AppsFlyer 2020).
Get your user adoption strategy right
Developing a clear understanding of your user adoption strategy from a UX perspective is critical. This applies to websites, web applications, mobile apps, and product-service systems. First, you must identify potential problem areas or points of 'cognitive friction' (speedbumps). Next, getting your value proposition right is key. Value exchange (eg your customer gives you money or time, and you give them an easier way to perform a task or service) is at the heart of all customer interaction. Therefore, building products that deliver emotional value to users becomes a high priority when protecting and growing your user adoption.
In this Masterclass, we will look at how user adoption works from a Cognitive Science perspective and how to fix a poor user adoption, and design a good one from the start. We will learn to use three core tools for reducing cognitive friction while building UX that differentiates and allows users to keep and enjoy the product.
Topics we will cover in this User Adoption Masterclass:
The lifecycle and what models of user adoption teach us
What typically causes user defection issues at the UI level
Designing better UX with 'synch', emotion design, and bonding
Three tools for reducing your cognitive friction: Features, Expectations, Tasks
B2B vs B2C tactics
Redefining user engagement (Beyond what Silicon Valley gave us)
Manipulative UI's (so-called Dark Patterns)
Boosting your emotional value & value proposition
Strategies for renewing value over time
How intangible value works in how users accept a design
Key metrics for getting users to adopt
About Monthly MasterClasses:
These monthly meet-ups are topic-driven live events with an informal presentation by Frank Spillers and group activities and discussions. Monthly MasterClasses are included as part of your membership. They allow a deep dive into important UX topics, with insights drawn from process best practices and case studies from Frank's two decades in the field.
Cost:
Not a member? $100
Members: FREE…join the UX Inner Circle to get this and enjoy access to $10,385 worth of value- recording trainings from 20 years of Frank Spillers' work.
Buy this Eseentials of User adoption course and get it live + the recording for only $100** USD:
Why Join?
The UX Inner Circle is a professional learning community with a program of monthly events for UX researchers and designers, managers, and directors practicing UX and Service Design. We are a small group of 50+ UX and Service Designers, Directors, and Researchers currently 100% working in UX. Attendees come from orgs like Harvard, Google, IBM, Accenture, Deloitte, Capital One, US Bank, healthcare, government, and non-profits. So why join?
Refine or expand your current skills– push the boundaries of your learning.
Get advice and guidance: Put a top-performing UX expert (Frank Spillers, CEO of award-winning UX firm Experience Dynamics and top instructor at Interaction Design Foundation) in your pocket. Stay connected with the latest on what Frank is thinking and prioritizing in UX and Service Design.
Ask anything to other UXIC colleagues on a dedicated private Slack channel. Also, collaborate during monthly meet-ups (Masterclasses).
Get a promotion at work or upgrade your skills, portfolio, or process knowledge. This is the #1 reason folks keep subscribing to the UX Inner Circle.
Ready to Join the UXIC?
30- Day Free Trial (billing starts month 2)
Membership includes access to ALL monthly event recordings and more (going back 20 years of Frank's UX career). 150+ recordings.  Monthly live meet-ups (Masterclass topics) and workshops (every other month). Miniclasses (short webinars) and access to longer webinars Frank provides with his UX firm Experience Dynamics.
Financial inclusiveness membership: USD$49 per month for Nonprofit-Student- or you live in the Global South/ Emerging Market (.org; .edu)
Regular membership: USD$99 Individual per month
20% discount on Annual Price; switch anytime, cancel anytime.
***THIS EVENT IS FREE WITH UX INNER CIRCLE MEMBERSHIP***
---