Back
UX Writing workshop- Part 1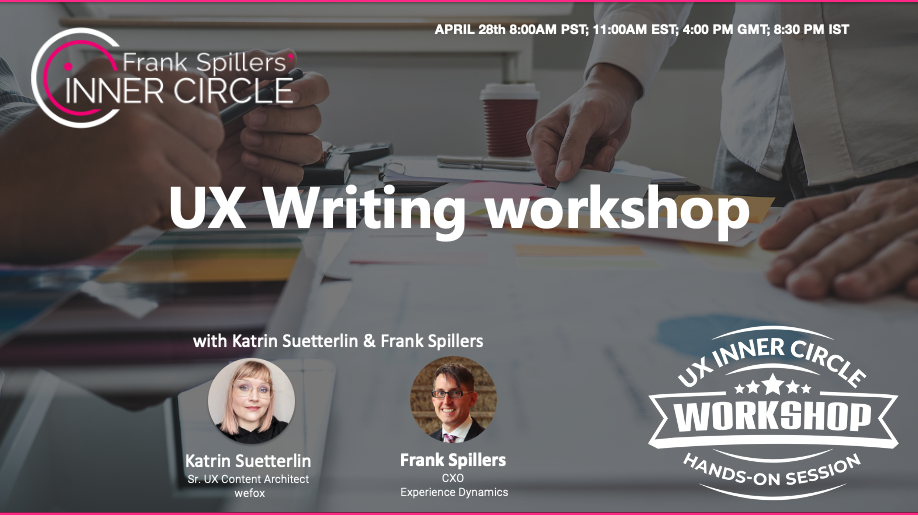 APRIL 28th 8:00AM PST; 11:00AM EST; 4:00 PM GMT; 8:30 PM IST
3 hrs (Part 1 of 2, 6 hrs total) Update: Part 2 added, due to our guest speaker testing positive for COVID-19, we will hold a part 2 where she will be in attendance.
Not a member?
Buy this course and recording for USD $100; 6 hrs total (50% of proceeds will go to The Trevor Project charity). 
This workshop builds on UX Writing- Increasing conversion rates with emotional impact (Masterclass)
Agenda:
Without key content, UX is lost. UX Writing brings strategic and contextually relevant content that supports and enables key UX and Interaction Design goals. Content is the most important and cheapest 'interface' to fix. However taking a systemic approach to staffing the role, and creating a collaborative space with the Design, Research, and Engineering team is vital.
In this workshop, with Sr. UX Writer Katrin Sutterlin (wefox) and Frank Spillers (Experience Dynamics) we will learn how to tackle key UX Writing challenges including how to craft content for neurodiverse audiences for maximum accessibility.
Topics we will cover:
Understanding the role of a UX Writer and UX Writing
How best to approach content design (including updates to existing content vs new projects)
Creating a content UX strategy
How to craft high-conversion microcopy
Evaluating & testing copywriting: tools and techniques
Building a Content system (Voice & Tone Style guide)
Testing and measuring the effectiveness of content and copy
Managing a UX writing team: business case, hiring and working with UX research & design process
About UX Inner Circle Workshops:
These workshops are live events with an informal presentation by Frank Spillers and group activities and discussions, with a more hands-on experience to learning the material presented. Online workshops are included as part of your UX Inner Circle membership. They allow a deep study of UX topics, with insights drawn from process best practices and case studies from Frank Spillers two decades in the field.
Cost:
VALUE of $399…join the UX Inner Circle to get this and enjoy access to $10,385 worth of value- recording trainings from 20 years of Frank Spillers's work.
FREE FOR INNER CIRCLE MEMBERS
Want to access the MasterClass? Join now starting at USD per month: $49 Nonprofit-Student-Emerging Market/ $99 Individual /$349 Team of 4
***FREE WITH UX INNER CIRCLE MEMBERSHIP**
Pricing Options ($49, $99 or $349 per month)
---