Back
UX Writing workshop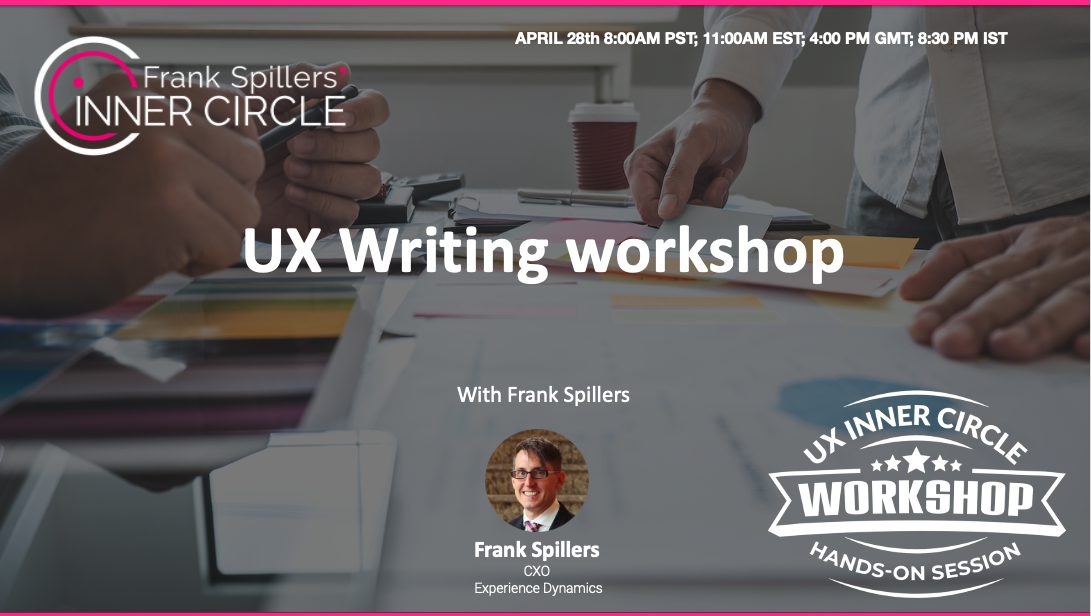 APRIL 28th 8:00AM PST; 11:00AM EST; 4:00 PM GMT; 8:30 PM IST
3 hrs
This workshop builds on UX Writing- Increasing conversion rates with emotional impact (Masterclass)
Agenda:
Understanding the role of a UX Writer and UX Writing
How best to approach content design (including updates to existing content vs new projects)
Creating a content UX strategy
How to craft high-conversion microcopy
Evaluating & testing copywriting: tools and techniques
Building a Content system (Voice & Tone Style guide)
Testing and measuring effectiveness of content and copy
Managing a UX writing team: business case, hiring and working with UX research & design process
About UX Inner Circle Workshops:
These workshops are live events with an informal presentation by Frank Spillers and group activities and discussions, with a more hands-on experience to learning the material presented. Online workshops are included as part of your UX Inner Circle membership. They allow a deep study of UX topics, with insights drawn from process best practices and case studies from Frank Spillers two decades in the field.
Cost:
VALUE of $399…join the UX Inner Circle to get this and enjoy access to $10,385 worth of value- recording trainings from 20 years of Frank Spillers's work.
FREE FOR INNER CIRCLE MEMBERS
Want to access the MasterClass? Join now starting at USD $49 Nonprofit-Student-Emerging Market/ $99 Individual/$349 Team of 4
***FREE WITH UX INNER CIRCLE MEMBERSHIP**
Pricing Options ($49, $99 or $349 per month)
---