Back
UX Writing workshop | Part 2/3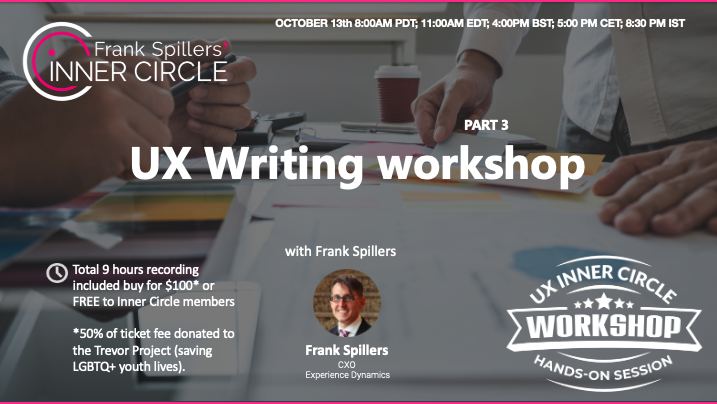 JULY 21st 8:00AM PST; 11:00AM EST; 4:00 PM BST; 5:00 PM CST 8:30 PM IST
3 hrs (Part 2 of 3, 6 hrs total)
View the Promo video featuring guest speaker Katrin Sutterlin…
Not a member? Buy this course and recording for USD $100; 6 hrs total (50% of proceeds will go to The Trevor Project charity). 
This workshop builds on UX Writing- Increasing conversion rates with emotional impact (Masterclass)
Agenda:
Without key content, UX is lost. UX Writing brings strategic and contextually relevant content that supports and enables key UX and Interaction Design goals. Content is the most important and cheapest 'interface' to fix. However taking a systemic approach to staffing the role, and creating a collaborative space with the Design, Research, and Engineering team is vital.
In this workshop, with Sr. UX Writer Katrin Sutterlin (wefox) and Frank Spillers (Experience Dynamics) we will learn how to tackle key UX Writing challenges including how to craft content for neurodiverse audiences for maximum accessibility.
Topics we will cover:
Part 1 topics covered:
Designing and prioritising content with Content First
Researching your users pain points (desirability and task support)
Conceptual models and UX writing
Auditing your UX Writing
Tone vs Voice: Making a Tone Map
Part 2 topics covered: with guest Katrin Sutterlin, Sr. UX Writer at wefox (Germany)
Intro to neurodiversity
Designing for people on the neurodiversity sepctrum
UX vs neurodiversity
Layouts and writing for Neurodiverse audiences
Part 3 topics covered:
How to craft high-conversion microcopy
Wireframing and UX writing
How best to approach content design (including updates to existing content vs new projects)
Creating a Content UX strategy
Evaluating & testing copywriting: tools and techniques
Localization and content considerations
Managing a UX writing team: business case, hiring, and working with UX research & design process
About UX Inner Circle Workshops:
These workshops are live events with an informal presentation by Frank Spillers and group activities and discussions, with a more hands-on experience to learning the material presented. Online workshops are included as part of your UX Inner Circle membership. They allow a deep study of UX topics, with insights drawn from process best practices and case studies from Frank Spillers two decades in the field.
Cost:
Not a member? $100 (3 hrs plus recording). VALUE of $399. Also, get Part 1 (3 hrs) with this purchase.
Members: FREE…join the UX Inner Circle to get this and enjoy access to $10,385 worth of value- recording trainings from 20 years of Frank Spillers' work.
Why Join?
The UX Inner Circle is a professional learning community with a program of monthly events for UX researchers and designers, managers, and directors practicing UX and Service Design. We are a small group of currently 50 UX and Service Designers, Directors, and Researchers currently 100% working in UX. Attendees come from orgs like Harvard, Google, IBM, Accenture, Deloitte, Capital One, US Bank, healthcare, government, and non-profits. So why join?
Refine or expand your current skills– push the boundaries of your learning.
Get advice and guidance: Put a top-performing UX expert (Frank Spillers, CEO of award-winning UX firm Experience Dynamics and top instructor at Interaction Design Foundation) in your pocket. Stay connected with the latest on what Frank is thinking and prioritizing in UX and Service Design.
Ask anything to other UXIC colleagues on a dedicated private Slack channel. Also, collaborate during monthly meet-ups (Masterclasses).
Get a promotion at work or upgrade your skills, portfolio, or process knowledge. This is the #1 reason folks keep subscribing to the UX Inner Circle.
Ready to Join the UXIC?
30- Day Free Trial (billing starts month 2)
Membership includes access to ALL monthly event recordings and more (going back 20 years of Frank's UX career). 150+ recordings.  Monthly live meet-ups (Masterclass topics) and workshops (every other month). Miniclasses (short webinars) and access to longer webinars Frank provides with his UX firm Experience Dynamics.
Financial inclusiveness membership: USD$49 per month for Nonprofit-Student- or you live in the Global South/ Emerging Market (.org; .edu)
Regular membership: USD$99 Individual per month
20% discount on Annual Price; switch anytime, cancel anytime.
***THIS EVENT IS FREE WITH UX INNER CIRCLE MEMBERSHIP***
---