Back
UX Writing- Increasing conversion rates with emotional impact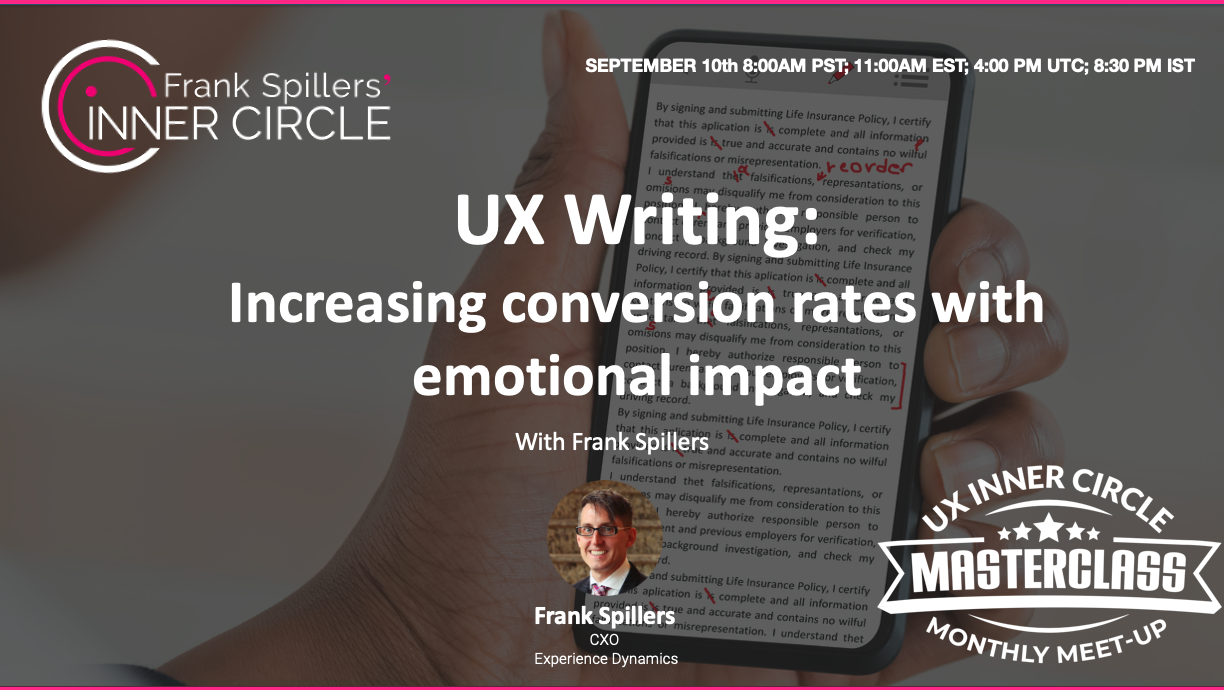 September 10th 8:00AM PST; 11:00AM EST; 4:00 PM UTC (GMT); 8:30 PM IST
3 hrs (Zoom online)
Live with Frank Spillers
UX Writing- Increasing conversion rates with emotional impact (Masterclass)
UX Writing is critical to creating a good experience. At its core, UX writing relies on the strategic use of words in alignment with UX goals. For example, good copywriting helps facilitate three important goals: 1) quick scanning, 2) reading and comprehending, and 3) taking action. Taking action relates to usability & accessibility and, of course, to conversion rates. In this Masterclass, we will prioritize how you can leverage emotional impact for improved customer conversion rates.
It has been estimated that words and content are the most important element of a User Interface. Even being ranked in search engines by Google (SEO) now requires good UX: made up of the pillars of user-centered and mobile-friendly content. Content is also the cheapest "UI" to change. So it makes sense that you spend time being deliberate and customer-centered when it comes to copy.
In this Masterclass, Frank Spillers will cover known best practices to copywriting based on industry best practices as well as his vast UX consulting experience. Most importantly in this monthly meet-up of the UX Inner Circle, we will discover ways you can support user task completion and conversion behavior with copy. This includes affecting the navigation and flow of your website or mobile experience.
Topics we will cover in this Masterclass:
How to create a content UX strategy.
How conduct a content usability audit.
Aligning the 5 pillars of content usability.
How to create powerful copy that's customer-centered.
Getting audience considerations right: locally, globally, and diversely.
Inclusive Design & Ethical UX copywriting essentials.
Using emotional impact to amplify the power of your copy/ microcopy.
Propelling your users to action.
Tips for improving your overall UX and SEO with UX Writing.
Process strategy: improving how you create and manage content, prototypes, and copywriting.
About Monthly MasterClasses:
These monthly meet-ups are topic-driven live events with an informal presentation by Frank Spillers and group activities and discussions. Monthly MasterClasses are included as part of your membership. They allow a deep dive into important UX topics, with insights drawn from process best practices and case studies from Frank's two decades in the field.
Cost:
VALUE of $100…join the UX Inner Circle to get this and enjoy access to $10,385 worth of value- recording trainings from 20 years of Frank Spillers's work.
FREE FOR INNER CIRCLE MEMBERS
Want to access the MasterClass? Join now starting at USD $49 Nonprofit-Student-Emerging Market/ $99 Individual/$349 Team of 4
***FREE WITH UX INNER CIRCLE MEMBERSHIP**
Pricing Options ($49, $99 or $349 per month)
---