Back
Understanding the role of intangible value in Service Design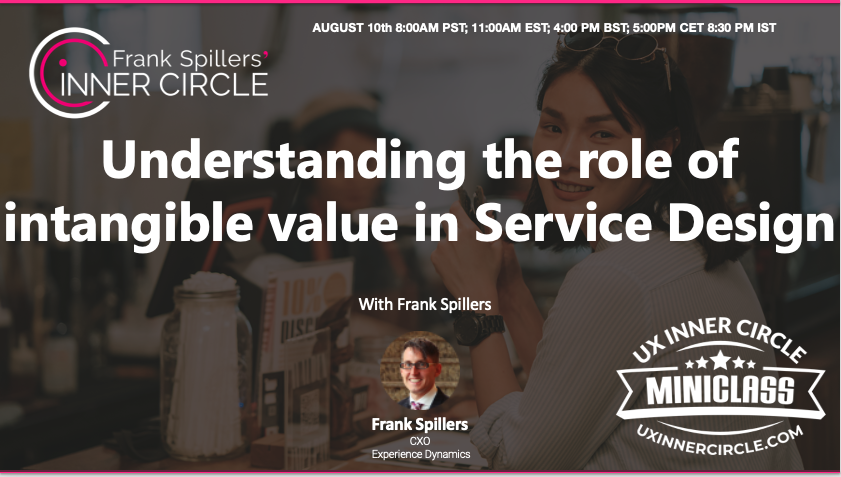 AUGUST 10th 8:00AM PST; 11:00AM EST; 4:00 PM BST; 5:00PM CET 8:30 PM IST
30 minutes (brief overview, brief activity, Q&A)
Agenda:
Intangible value is central to understanding the business case and the practice of Service Design. Services themselves are often intangible. For example, a UX project specifies a mobile app (tangible). In contrast to a Service Design project that avoids specifying solutions until a systems-level view across channels involving the front stage customer experience, employee experience, and backstage ecosystem is fully understood. The result might include a mobile app or it might be the changing of a business rule or adjusting employee behaviors (intangible).
Intangibles are vital ROI-generators that are often not visible, difficult to anticipate, and tricky to measure. Yet services and products offering intangible value offer powerful downstream effects to the business. They sometimes are the most important aspect of a service or product experience. In this category are emotional value, greater equity, or better decision-making by a product-service delivery team.
This Miniclass will introduce you to this important background effect involved in playing a vital business role in Service Design creation and measurement.
Topics we will cover in the Miniclass:
Defining intangible value: examples
How to represent intangible value to the business and the customer
Measuring and justifying intangibles
Q&A
About Miniclasses:
A brief, but deep-dive into a topic, led by Frank Spillers. The sessions provide an orientation to key points on a topic. The sessions are FREE to members of the UX Inner Circle.
Cost:
VALUE of $15…join the UX Inner Circle to get this and enjoy access to $10,385 worth of value- recording trainings from 20 years of Frank Spillers's work. Try it for 30-days free…
FREE FOR INNER CIRCLE MEMBERS
Want to access the MasterClass? Join now starting at USD $49 Nonprofit-Student-Emerging Market/ $99 Individual/$349 Team of 4.