Back
This is Ethnography Doing-Workshop part 2/3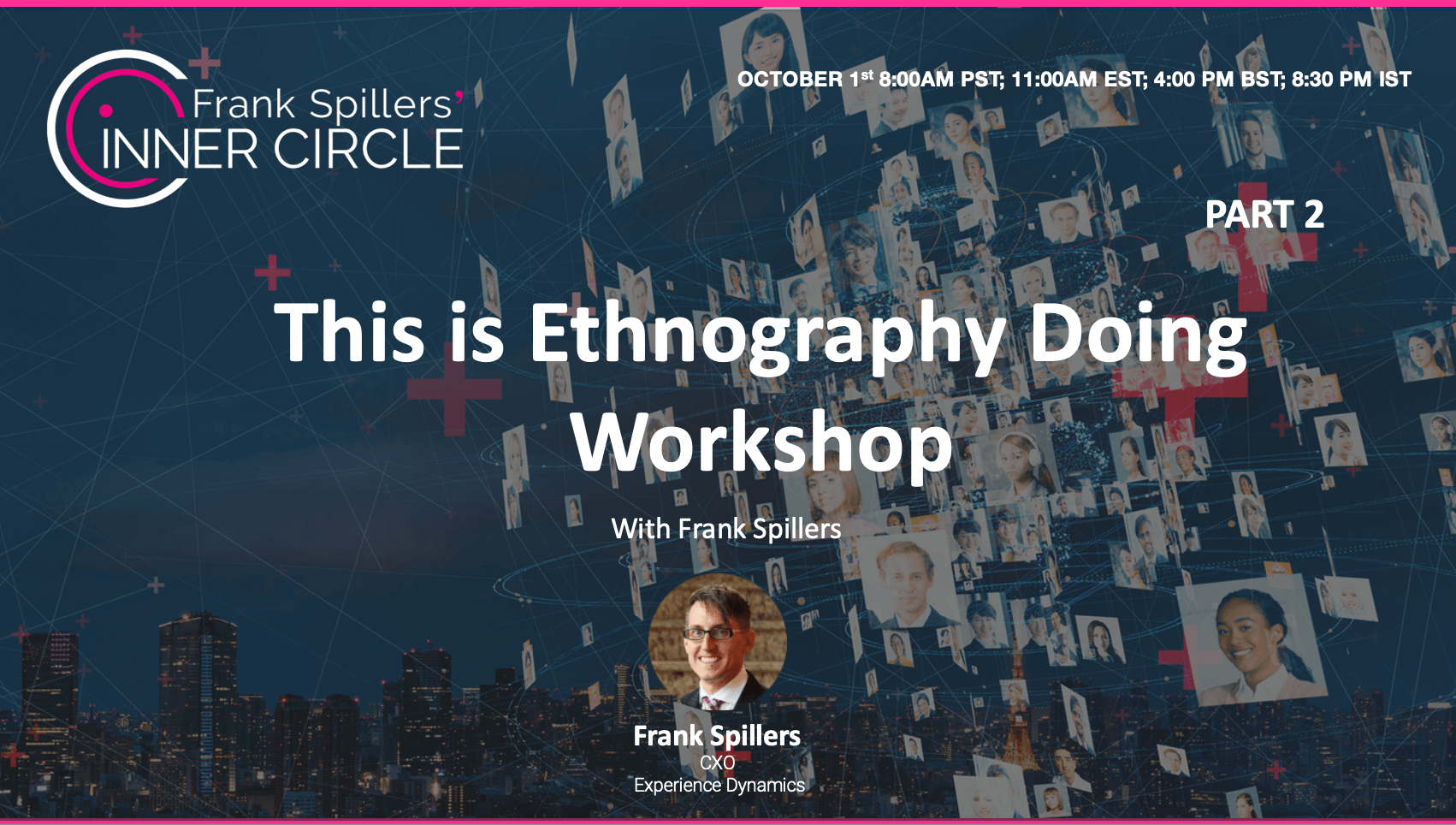 OCTOBER 1st 8:00AM PST; 11:00AM EST; 4:00 PM BST; 8:30 PM IST
3 hrs (Zoom online)- note this workshop will take place over 3 sessions (total 9 hrs).
Live with Frank Spillers (includes actual users and actual data).
This workshop continues from part 1… (Note this is a 3 part workshop)
The focus of this hands-on learning experience is on how to do Ethnography. In this workshop, we will learn all the steps in Ethnography. First, we will start with recruiting target users for the actual study. Next, we will learn how to moderate user interviews, with an emphasis on the capture of quality data. Finally, we will unpack and analyze the data and insights.
Participants will learn by doing. The UX Inner Circle provides supported mentoring with opportunities to practice skills with peers. The workshop will be led by industry veteran and Master UX Trainer Frank Spillers. Frank will share tried and tested process know-how he uses daily at his award-winning UX Consulting firm, Experience Dynamics.
Note: This workshop will be split into smaller working sessions. In addition, participants will be required to spend time outside of class managing users.
Bonus workshop: The real data gathered in this workshop will lead to a second workshop. "Insight Sprints- bringing your team along the user research journey". This workshop is focused on organizational process and evangelizing insights.
About UX Inner Circle Workshops:
These workshops are live events with an informal presentation by Frank Spillers and group activities and discussions, with a more hands-on experience to learning the material presented. Online workshops are included as part of your UX Inner Circle membership. They allow a deep study of UX topics, with insights drawn from process best practices and case studies from Frank Spillers two decades in the field.
Cost:
VALUE of $399…join the UX Inner Circle to get this and enjoy access to $10,385 worth of value- recording trainings from 20 years of Frank Spillers's work.
FREE FOR INNER CIRCLE MEMBERS
Want to access the MasterClass? Join now starting at USD $49 Nonprofit-Student-Emerging Market/ $99 Individual/$349 Team of 4
***FREE WITH UX INNER CIRCLE MEMBERSHIP**
Pricing Options ($49, $99 or $349 per month)
---