Back
Storytelling: strategies for getting user needs embedded in teams and designs (Masterclass)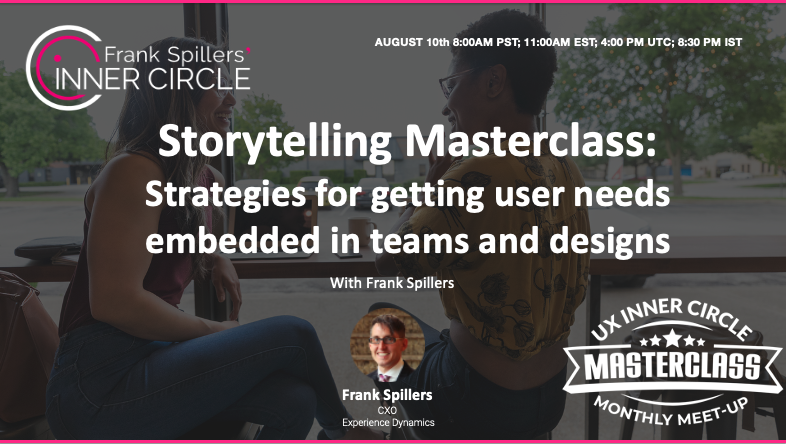 August 10th 8:00AM PST; 11:00AM EST; 4:00 PM UTC (GMT); 8:30 PM IST
3 hrs (Zoom online)
Live with Frank Spillers
You have heard of User Stories from your dev team, right? After all, they are part of good Agile development. However, the question of user stories brings up a bigger issue which is where are the stories coming from? When doing User Advocacy, it is important that you are sharing stories from the 'problem space' of the user. As it turns out, Storytelling is a core soft skill for UX Designers and UX Researchers. Because Human-Centered Design brings in the "messy details" of people's lives, it is important that scenarios, tasks, goals, and emotional or social aspects get clearly communicated. Storytelling is the vehicle for educating, informing, inspiring, and evangelizing user needs.
If all you do is invent user stories, then you will only live in fantasy land– the corporate norm. Most importantly, stories help dispel assumptions about users. Corporate dev & design teams are plagued with assumptions. Furthermore, internal teams are filled with unconscious biases— the biggest of which is 'confirmation bias' (where you see what you want to see). That's why, when it comes to assessing product or service features against user needs and abilities, most teams fail. The fix to seeing beyond your own belly button is a great, real, eye-opening, jaw-dropping user story.
In this Masterclass, we will learn Storytelling skills with an aim to improve design decision communication among teams.
Topics covered in this Masterclass:
You will learn Story structure, and how to use it to aid in design decision conversations.
Storytelling UX essentials- how to get the best user stories with the highest business impact (ROI).
Microstorytelling- going viral with user insights.
Improv- going into Mentalizing to activate 'hidden empathy' for user scenarios.
Using Story as a Research tool- using 'Story-mapping' to communicate your user journey.
Using Story as a Design tool- using 'Question-storming' to warm up teams to user needs discovery.
Turning your team into a Story-centric UX group: communicating to stakeholders and non-UX teams.
About Monthly MasterClasses:
These monthly meet-ups are topic-driven live events with an informal presentation by Frank Spillers and group activities and discussions. Monthly MasterClasses are included as part of your membership. They allow a deep dive into important UX topics, with insights drawn from process best practices and case studies from Frank's two decades in the field.
Cost:
VALUE of $100…join the UX Inner Circle to get this and enjoy access to $10,385 worth of value- recording trainings from 20 years of Frank Spillers's work.
FREE FOR INNER CIRCLE MEMBERS
Want to access the MasterClass? Join now starting at USD $49 Nonprofit-Student-Emerging Market/ $99 Individual/$349 Team of 4
***FREE WITH UX INNER CIRCLE MEMBERSHIP**
Pricing Options ($49, $99 or $349 per month)
---