Back
User Advocacy- Fighting for the Rights of Users Masterclass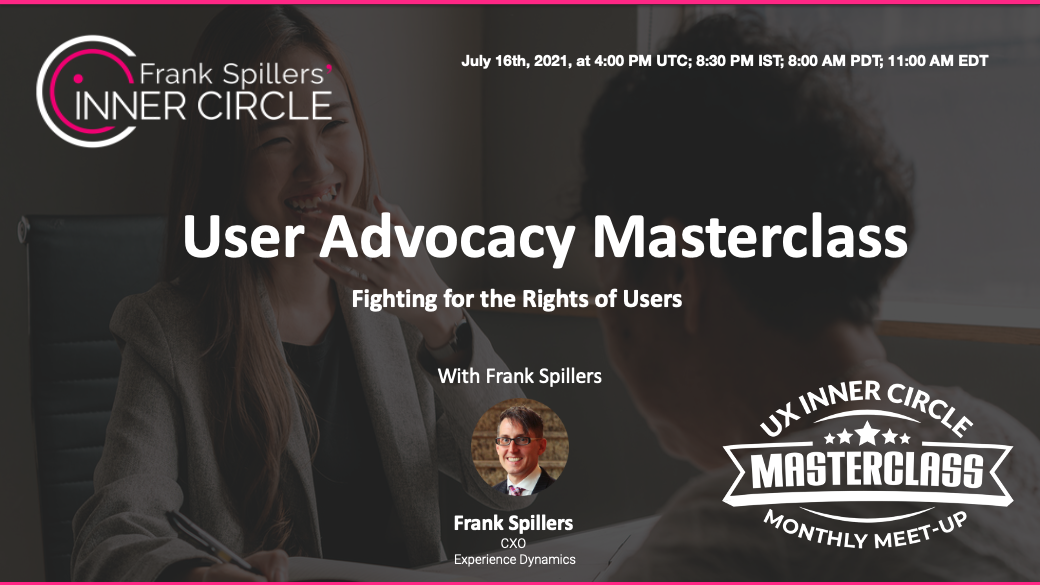 3 hours-(group activities, 1:1 access to Frank Spillers)
July 16th, 2021, at 4:00 PM UTC; 8:30 PM IST; 8:00 AM PDT; 11:00 AM EDT
Agenda:
User Advocacy is a core UX 'soft skill', that is recognized as essential to doing UX, but is rarely taught. As a result, UX professionals learn User Advocacy organically, through experience, and over time. However, teams that need to "move quickly and fix things" find themselves cutting corners, implementing "Lean UX" and leaving users out. In addition, this habit forms the basis of failed Inclusive Design efforts.
Where empathy means: "I think I understand your experience", advocacy means: "I take your side and fight for your rights". User advocacy means you bring user representation to your design conversations and decision-making processes. Coincidentally, all top-performing UX'ers do solid user advocacy.
In UX work, user advocacy is a regular job skill. Every day and in every meeting, there are enemies of UX– people who don't value or appreciate the perspective or needs of the user. In many cases, the insensitivity to users or user needs is not deliberate.  It is often simply the lack of familiarity with Human Centered Design processes, roles, and mindsets. Enter user advocacy…
User Advocacy is critical to doing good UX. Weak user advocacy amongst technology teams is a sign of poor UX management. In this Masterclass, we will change the 'spoken about but never taught' phenomenon, so that you come out being a stronger advocate– with a game plan.
In this monthly meetup of the UX Inner Circle, Frank Spillers will cover this topic based on practical tips about what works and what does not. The following topics will be covered:
The updated User Bill of Rights: what are we fighting for?
How to ensure that users get put back into "UX".
Strategies and tips for discussing user needs and behaviors in meetings.
How to "sell" User Research (both sides: user testing + field research).
How to teach other teammates to do user advocacy.
Assessing your User Advocacy skill level (and developing a path to upskilling).
Organizational advocacy and the business case for cross-functional teams adopting User Advocacy.
Extending user advocacy to reach underrepresented users: Disability Advocacy, Cross-Cultural Advocacy, Inclusion Advocacy.
About Monthly MasterClasses:
These monthly meet-ups are topic-driven live events with an informal presentation by Frank Spillers and group activities and discussions. Monthly MasterClasses are included as part of your membership. They allow a deep dive into important UX topics, with insights drawn from process best practices and case studies from Frank's two decades in the field.
Cost:
VALUE of $100…join the UX Inner Circle to get this and enjoy access to $10,385 worth of value- recording trainings from 20 years of Frank Spillers's work. Try it for 30-days free…
FREE FOR INNER CIRCLE MEMBERS
Want to access the MasterClass? Join now starting at USD $49 Nonprofit-Student-Emerging Market/ $99 Individual/$349 Team of 4.
---