Back
Service Blueprints workshop 2/3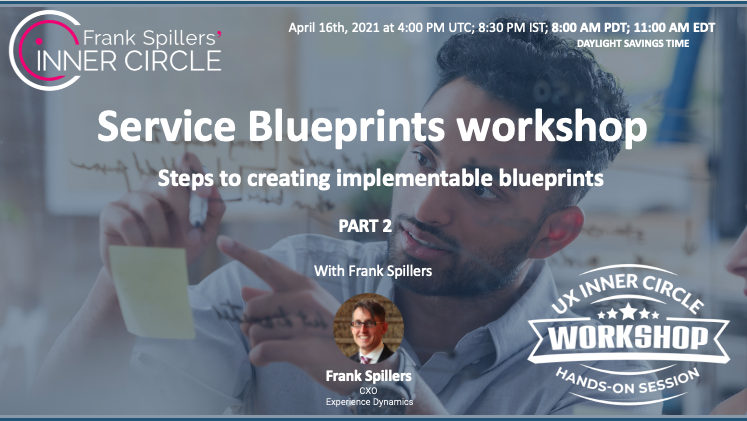 Building on part 1, Service Blueprints: Steps to creating implementable blueprints, we pick up Service Blueprinting with building out our Sustainability UX 'Energy Saving' Journey touchpoint inventory that will lead to the Service Blueprint activity.
Service Blueprints bring together the "plan" of how your organization intends to deliver the value proposition for the customer or to streamline value co-creation in 'backstage' (backend) systems.  Service Blueprints build on an understanding of customer pain points and where the breakdowns exist from a whole-systems perspective. This can involve workflow, rules, processes, and procedures; systems (IT/ Operations), and UX designs for digital touchpoints.
The focus of this workshop is not just the Service Blueprint, but on effectively understanding how to shape your Service Design process for improved effectiveness. Having an implementable Service Blueprint is critical. Frank will guide you through steps for creating an implementable blueprint. By attending this workshop, you will be able to create a Service Blueprint by using a real-life case study, with real customer data and a business problem to solve.
About UX Inner Circle Workshops:
These workshops are live events with an informal presentation by Frank Spillers and group activities and discussions, with a more hands-on experience to learning the material presented. Online workshops are included as part of your UX Inner Circle membership. They allow a deep study of UX topics, with insights drawn from process best practices and case studies from Frank Spillers two decades in the field.
***FREE TO UX INNER CIRCLE MEMBERS***
Pricing Options ($49, $99 or $349 per month)
---