Back
Speculative Design for UX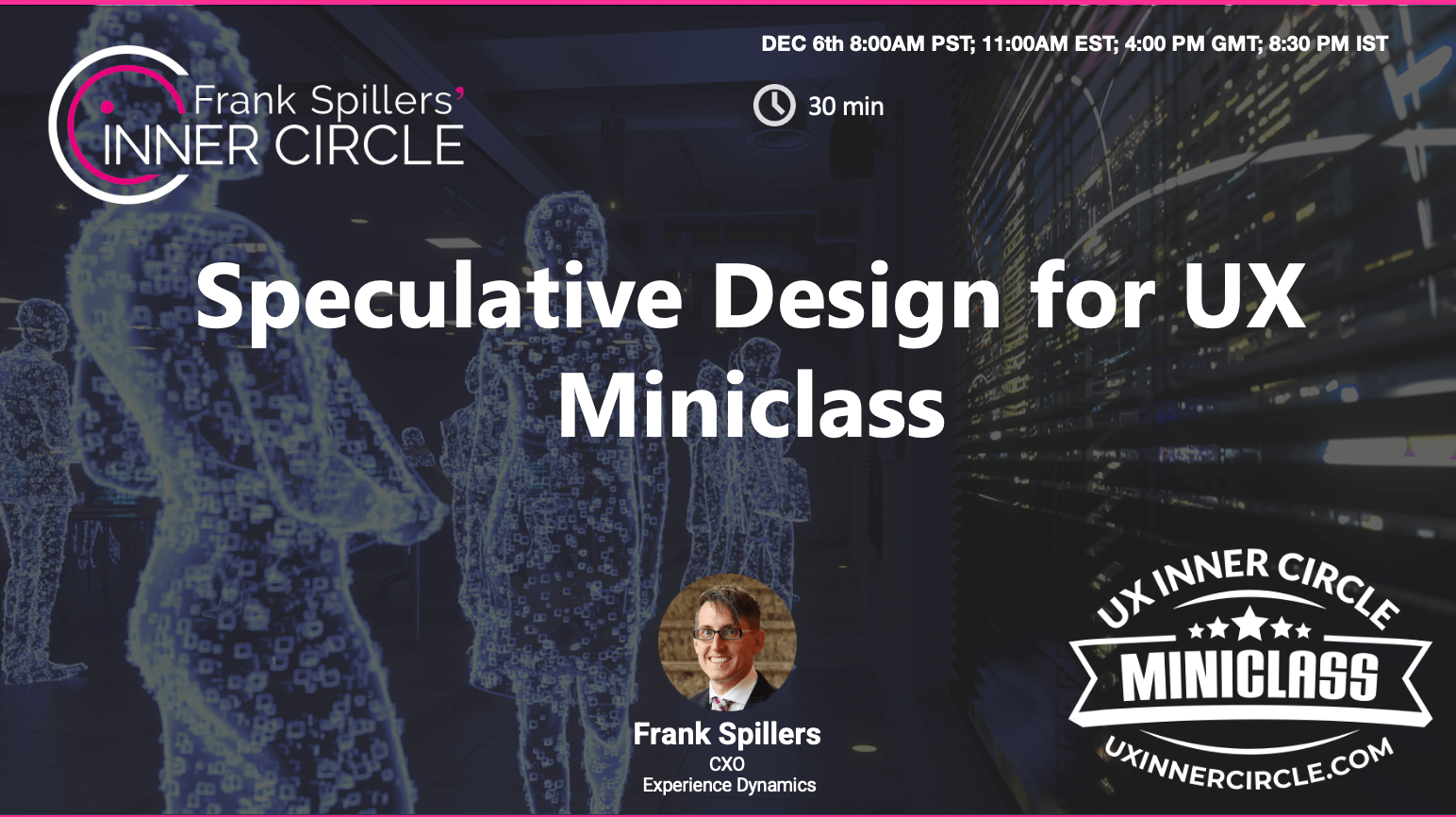 DEC 6th 8:00AM PDT; 11:00AM EDT; 4:00 PM GMT; 8:30 PM IST
30 min
Cost: Buy this course and attend it live or get the recording for only $10 USD:
Free for UX Inner Circle Members–Join now, cancel anytime
Speculative Design for UX Miniclass
Speculative design provides an opportunity to model and probe future scenarios. It can help teams imagine new and novel interactions while critiquing practical and ethical issues with design concepts. This approach can be ideal for Policy Design scenarios and emerging issues in AI for UX Design.
Why Speculative Design, why now?
See: The future is scary…(and here's how to deal with it)
As we step into an AI-infused future, it is critical to debug ideas and trends while pushing boundaries of novel usage, sensibly. Speculative Design gives design teams more imaginative room to stress-test and explore prototypes of the future, or 'visiontypes'. In this webinar Miniclass, Frank Spillers will share how you can explore future customer journeys and product-service designs through a futurecasting process.
Why this matters: AI is radically changing how we learn and work. UX design for AI will be critical in the coming decade to make it human-centered. What's more, being future-proof in your designs and customer journey planning is essential. That's where Speculative design can help.
What you'll learn:
In this 30-minute webinar (Miniclass), you will learn how Speculative Design can be used to manage future scenarios, including modeling and planning future experiences.  Frank Spillers will cover practical ways to incorporate Speculative design into the reality of business which typically focuses entirely on "the now".
Topics we will cover in this Miniclass:
What is the role of Speculative Design for UX?
Debugging future scenarios & harm cases
Using a Futurecasting process
Deploying 'visiontypes'
Q&A
About Miniclasses:
A brief but deep-dive into a topic led by Frank Spillers. The sessions provide an orientation to key points on a topic. The sessions are FREE to members of the UX Inner Circle. Apply to join, or try it free for 30 days…(billing starts month 2, cancel anytime). Also, see: What kind of people join the UXIC?
Cost: Buy this course and attend it live or get the recording for only $10 USD:
Free for UX Inner Circle Members–Join now, cancel anytime
---