Back
AI for UX Design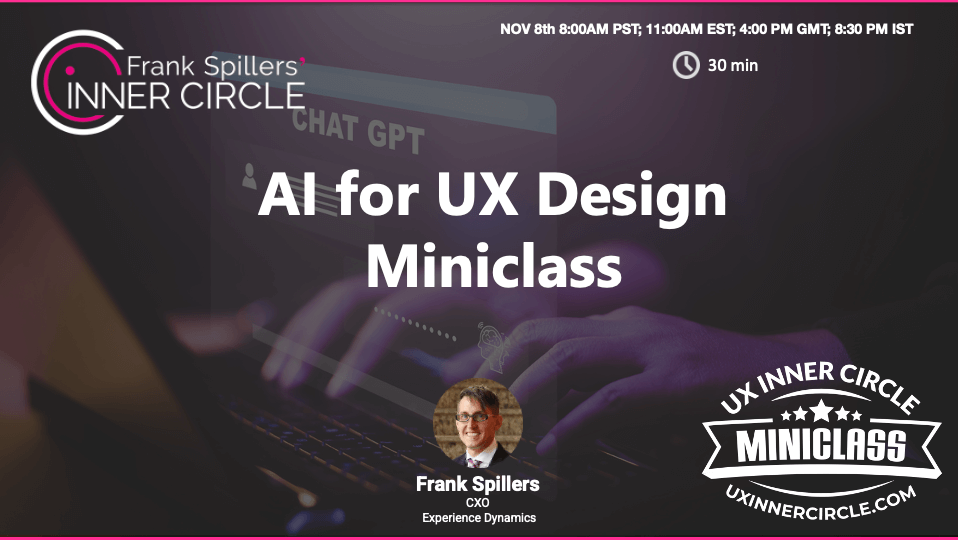 NOV 8th 8:00AM PDT; 11:00AM EDT; 4:00 PM GMT; 8:30 PM IST
30 min
Cost: Buy this course and attend it live or get the recording for only $10 USD:
Free for UX Inner Circle Members–Join now, cancel anytime
Miniclass: AI for UX Design
You can use AI to carefully improve various UX Design tasks, from research preparation to data analysis and communication tasks. However, it is important to draw ethical boundaries around AI for UX and understand its augmentation powers, not a replacement for UX roles like Designers or UX Writers.
Agenda:
Generative AI is set to disrupt and enhance many domains, including UX. Rather than be troubled by this development, this Miniclass webinar focuses on where, when, and how AI can have a credible impact on your UX work.
Why this matters:
AI has powerful improvisational abilities that can lead to either helpful or ineffective input to UX work. To work with AI impactfully requires understanding how to improvise with AI. In short, you must first improve your Improv game for UX.
What you'll learn:
In this 30-minute webinar (Miniclass), you will understand how generative AI can enhance your UX work. Frank Spillers will cover specific and realistic uses of AI for UX without any predictions, threats, or hype.
Topics we will cover in this Miniclass:
5 critical AI for UX boundaries + opportunities
Using Generative AI for Problem Framing
Thinking through UX flows, UX Writing, and AI use cases
3 key UX process efficiency improvements
Q&A
About Miniclasses:
A brief but deep-dive into a topic led by Frank Spillers. The sessions provide an orientation to key points on a topic. The sessions are FREE to members of the UX Inner Circle. Apply to join, or try it free for 30 days…(billing starts month 2, cancel anytime). Also, see: What kind of people join the UXIC?
---