Back
Masterclass: UX process case studies–UX management in action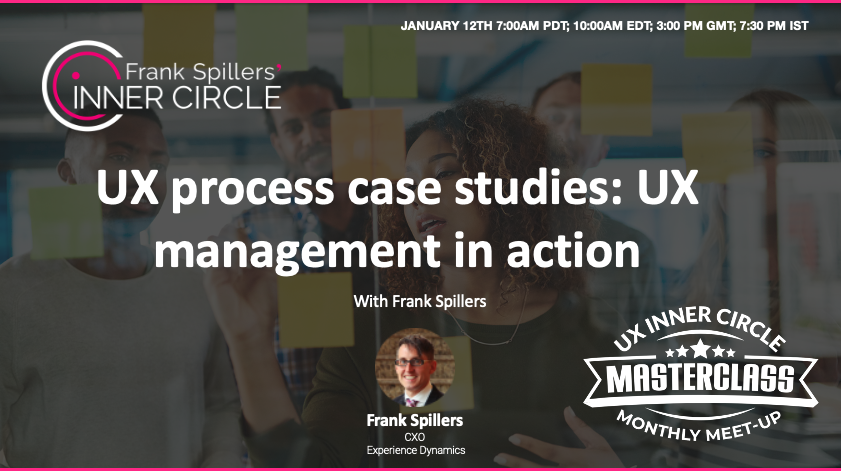 JANUARY 12TH 7:00AM PST; 10:00AM EST; 3:00 PM GMT; 7:30 PM IST
2.5 hours-(group activities, 1:1 access to Frank Spillers) 
Buy this course and recording for $100 USD:
Agenda:
It does not matter what you design, or even how you design it, if you do not have stakeholders on board and organizational buy-in, your UX can suffer. UX process sculpting is the 'holy grail' of UX management. Re-working how your UX comes together, by whom, and when certain activities and decisions are taken is critical to success.
In this Masterclass, we will review best practices in UX process and UX maturity. We will hear from three UX Inner Circle members (a non-profit and two banks) who will present their current efforts to impact organizational transformation.
Topics to be covered in this Masterclass:
Determining UX maturity- what works and what doesn't
What's missing from your UX process
Guerrilla tactics for getting organizations to embrace UX process
UX process mapping and process redesign
UX process case studies
Troubleshooting your UX process including for Service Design and Inclusive Design efforts
About Monthly MasterClasses:
These monthly meet-ups are topic-driven live events with an informal presentation by Frank Spillers and group activities and discussions. Monthly MasterClasses are included as part of your membership. They allow a deep dive into important UX topics, with insights drawn from process best practices and case studies from Frank's two decades in the field.
Cost:
VALUE of $100…join the UX Inner Circle to get this and enjoy access to $10,385 worth of value- recording trainings from 20 years of Frank Spillers's work. Try it for 30-days free…
FREE FOR INNER CIRCLE MEMBERS
Want to access the MasterClass? Join now starting at USD $49 Nonprofit-Student-Emerging Market/ $99 Individual/$349 Team of 4.
---