Back
From Design Systems to DesignOps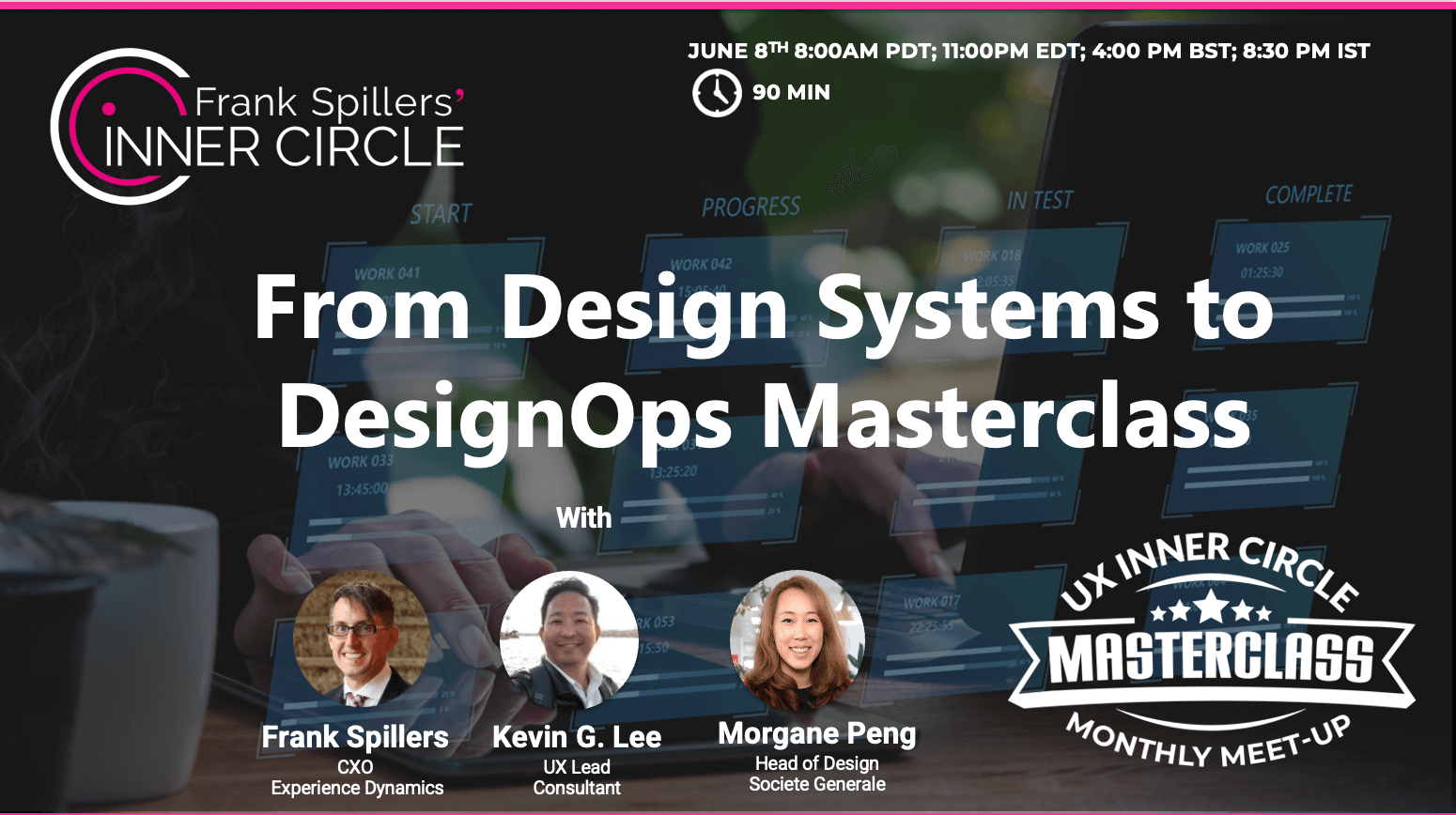 JUNE 8th 8:00AM PDT; 11:00PM EDT; 4:00 PM GMT (BST); 8:30 PM IST
1.5 hour (Zoom online) with Design Director, Morgane Peng and UX Lead, Kevin G. Lee
Learn how to manage Design Systems and UX process in this Masterclass From Design Systems to DesignOps
Cost: Buy this course and attend it live or get the recording for only $100** USD:
Free for UX Inner Circle Members–Join now, cancel anytime
Going from Design Systems to DesignOps
Design Systems are a living UX deliverable vital to software development. In short, they operationalize UI elements and UX patterns, making them vital for developers. So Design Systems offer a way to scale Agile software development, bringing interface consistency and reducing 'technical debt and design debt'. However, that's the pretty picture of Design Systems. In reality, Design Systems can become a substitute for a broken UX process with weak UX maturity. This Masterclass will cover how to better manage Design Systems in a wider effort to operationalize all UX activities (DesignOps).
Design systems are the piece of a wider puzzle
Design Systems can be used to scale a UX effort. However, you can't have a Design System that carries all the weight. Essentially if you are prioritizing developer needs for UI direction, consistency, and assets you may lose sight of the user. Instead, a Design System needs a strong UX management approach, bringing user advocacy and user needs into stakeholder conversations. We call this DesignOps. So not just the governance and assetization of UI patterns, but the UX strategy that went into the design. Which means user research. So not just DesignOps but ResearchOps…
DesignOps needs to include ResearchOps
DesignOps brings operationalization of workflow, tools, processes, and "team sport" collaborative workshops, such as Journey Mapping. ResearchOps extends the focus from just wireframe prototyping or pivots leveraging Figma. ResearchOps is arguably more important than DesignOps or Design Systems. For example, Jared Spool recently advocated for putting User Research in charge. Why? Being able to do User Research at all, quickly, fluidly and elegantly is at the heart of an Insight-driven UX culture. ResearchOps operationalizes all aspects of User Research (explore this Mural infographic of ResearchOps) .
What we will cover in the Masterclass From Design Systems to DesignOps:
Business value and ROI of Design Systems
Design Systems limits and how to navigate around them
Building a scalable DesignOps effort (for your org small or large)
Managing governance of UX efforts
About Morgane Peng
Morgane is a Managing Director and Head of Design at Societe Generale Corporate & Investment Banking where she builds products for start-ups, corporates, and financial institutions. Outside of work, she is a mentor, conference speaker and also contributes to an indie video game crowdfunded on Kickstarter.
About Kevin G. Lee
Kevin G. Lee is a UX lead, former Head of UX, and designer with 25+ years in design. He has worked in Fintech, Healthcare, e-commerce, retail B2C, corporate, B2B, government, 3D printing, and bio-science sectors. Kevin will speak to his experience managing and leading UX teams, including growing DesignOps, across enterprise environments.
About Monthly MasterClasses:
These monthly meet-ups are topic-driven live events with an informal presentation by Frank Spillers and group activities and discussions. Monthly MasterClasses are included as part of your membership. They allow a deep dive into important UX topics, with insights drawn from process best practices and case studies from Frank's two decades in the field.
Cost:
Not a member? $100
Members: FREE…join the UX Inner Circle to get this and enjoy access to $10,385 worth of value- recording trainings from 20 years of Frank Spillers' work.
Buy this Design Systems & DesignOps Masterclass and get it live + the recording for only $100** USD:
Why Join?
The UX Inner Circle is a professional learning community with a program of monthly events for UX researchers and designers, managers, and directors practicing UX and Service Design. We are a small group of 50+ UX and Service Designers, Directors, and Researchers currently 100% working in UX. Attendees come from orgs like Harvard, Google, IBM, Accenture, Deloitte, Capital One, US Bank, healthcare, government, and non-profits. So why join?
Refine or expand your current skills– push the boundaries of your learning.
Get advice and guidance: Put a top-performing UX expert (Frank Spillers, CEO of award-winning UX firm Experience Dynamics and top instructor at Interaction Design Foundation) in your pocket. Stay connected with the latest on what Frank is thinking and prioritizing in UX and Service Design.
Ask anything to other UXIC colleagues on a dedicated private Slack channel. Also, collaborate during monthly meet-ups (Masterclasses).
Get a promotion at work or upgrade your skills, portfolio, or process knowledge. This is the #1 reason folks keep subscribing to the UX Inner Circle.
Ready to Join the UXIC?
30- Day Free Trial (billing starts month 2)
Membership includes access to ALL monthly event recordings and more (going back 20 years of Frank's UX career). 150+ recordings.  Monthly live meet-ups (Masterclass topics) and workshops (every other month). Miniclasses (short webinars) and access to longer webinars Frank provides with his UX firm Experience Dynamics.
Financial inclusiveness membership: USD$49 per month for Nonprofit-Student- or you live in the Global South/ Emerging Market (.org; .edu)
Regular membership: USD$99 Individual per month
20% discount on Annual Price; switch anytime, cancel anytime.
Review the Pricing Options
***THIS EVENT IS FREE WITH UX INNER CIRCLE MEMBERSHIP***
---