Back
Masterclass: Journey Mapping as a Team Sport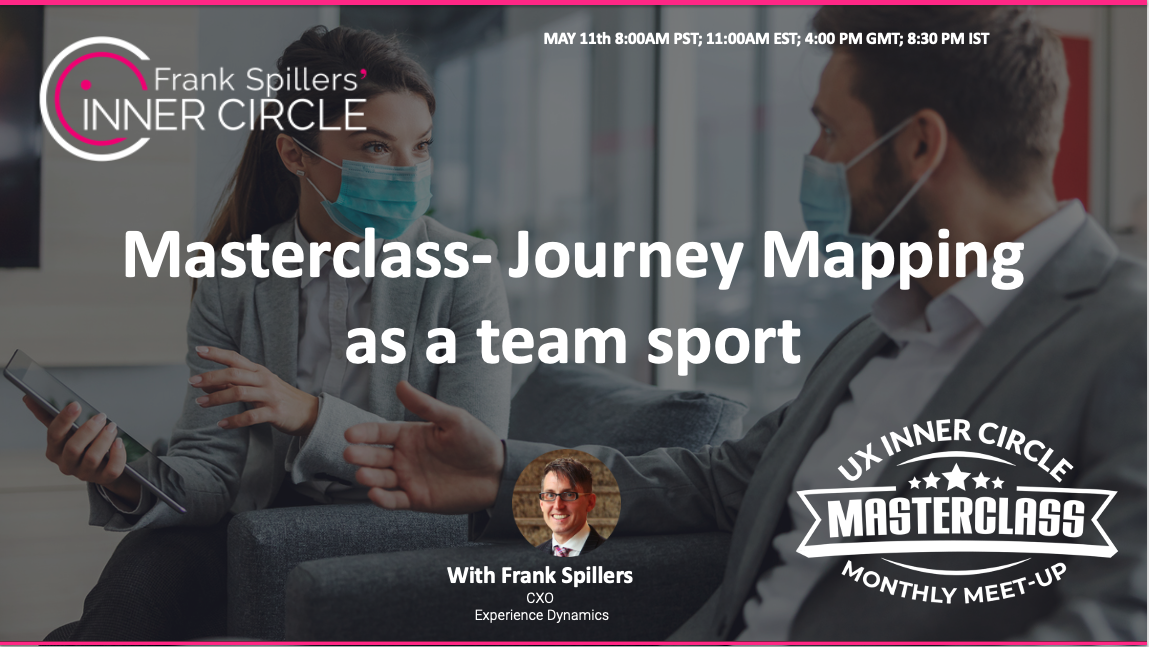 MAY 11TH 8:00AM PST; 11:00AM EST; 4:00 PM GMT; 8:30 PM IST
2.5 hrs
Buy this course and recording for $100 USD:
Agenda:
Journey mapping is an important deliverable in your UX process that documents how customers interact across channels, and across time. However, it is more than a document. How you use Journey Mapping depends on how much ROI you want to gain from this deliverable. In reality, organizations that take a tactical view of journey mapping fail to engage key stakeholders, which slows down the implementation and measurement of journey mapping efforts. In short, ideas and recommendations are not given the justice they deserve– or that you want them to have.
Journey mapping can be used tactically– by a UX designer or team, or it can be used strategically, bringing key stakeholders into workshops that surface insights, cross-pollinate key information and provide authority to decisions made about the customer, channel, or business strategy changes. This is the beauty of journey mapping as a team sport.
This Journey Mapping Masterclass dives into how to run a Journey Mapping workshop. It will show how taking a stakeholder-centric approach to journey mapping can improve organizational value around UX and thereby boost your UX maturity. We will discuss measurement and implementation as well as clarification of roles in the Journey Mapping process.
About Monthly MasterClasses:
These monthly meet-ups are topic-driven live events with an informal presentation by Frank Spillers and group activities and discussions. Monthly MasterClasses are included as part of your membership. They allow a deep dive into important UX topics, with insights drawn from process best practices and case studies from Frank's two decades in the field.
Cost:
VALUE of $100…join the UX Inner Circle to get this and enjoy access to $10,385 worth of value- recording trainings from 20 years of Frank Spillers's work. Try it for 30-days free…
FREE FOR INNER CIRCLE MEMBERS
Want to access the MasterClass? Join now starting at USD $49 Nonprofit-Student-Emerging Market/ $99 Individual/$349 Team of 4.
---