Back
Workshop- Designing Your Life: Avoid burnout and bring calm to your day (for designers and managers)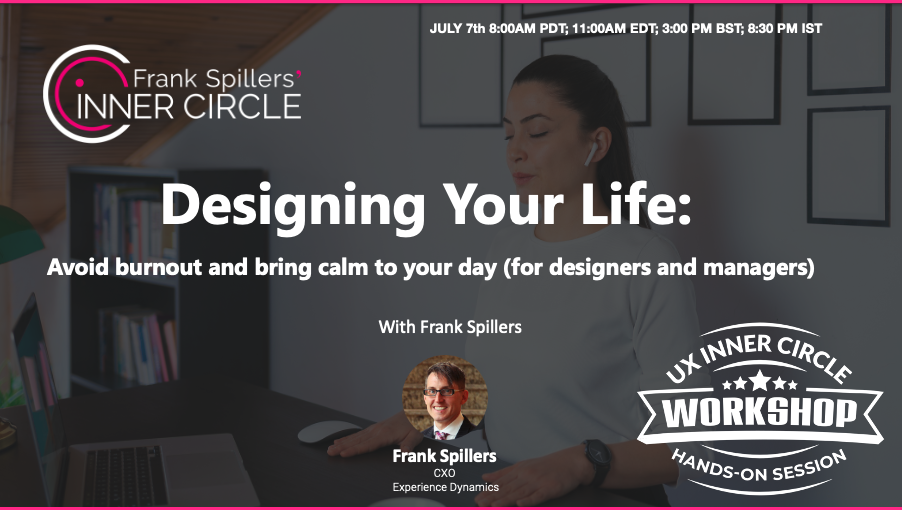 JULY 7th 8:00AM PDT; 11:00AM EDT; 3:00 PM BST; 8:30 PM IST
3 hours
Cost: $19.99 (80% discount, value of $99). Money-back guarantee.
Topic:
"60% of managers saying the pandemic has hurt their mental health and 40% saying they are now prioritizing their mental health over their career" (LinkedIn news 9 March 2022).
This workshop follows the mantra from TED founder Richard Saul Wurman who once said, 'Designing your life is the most difficult problem of them all'.
Today, you need to be totally resilient and adaptable, while staying creative. Yet the world we live in throws up obstacles including daily challenges to our attention and stress. Managers and designers who work cross-functionally can feel it most. Even success can be a challenge to remaining fresh and open to new information and ideas.
As UX Designers know, good journeys don't just happen, they are meticulously designed and tested before confidence is felt. This workshop will show you how to apply User Experience and Service Design processes, mindsets, and tools to your life at work and in today's work-at-home mode. The research-based tools and techniques you will learn have been tried and tested by Frank Spillers, founder of leading UX firm Experience Dynamics, and come from his personal experience.
Agenda:
Assessing your life design destination (the heuristic evaluation of where you are).
Defining your life journey map (3 essential journeys you need to map).
Designing a new control panel of the mind (a new UI for motivation and more).
Strategies for resilience and momentum (quick meditation and more).
Dealing with distractions and guarding your focus.
About UX Inner Circle Workshops:
These workshops are live events with an informal presentation by Frank Spillers and group activities and discussions, with a more hands-on experience to learning the material presented. Online workshops are included as part of your UX Inner Circle membership. They allow a deep study of UX topics, with insights drawn from process best practices and case studies from Frank Spillers two decades in the field.
Cost: $19.99 (Money-back Guarantee if you do not get value from this workshop)*.
*FREE FOR INNER CIRCLE MEMBERS
Want to access the MasterClass? Join the UX Inner Circle to get this and enjoy access to $10,385 worth of value- recording trainings from 20 years of Frank Spillers's work.
Pricing Options ($49, $99 or $349 per month)