Back
Webinar- How UX Designers can help solve Sustainability Challenges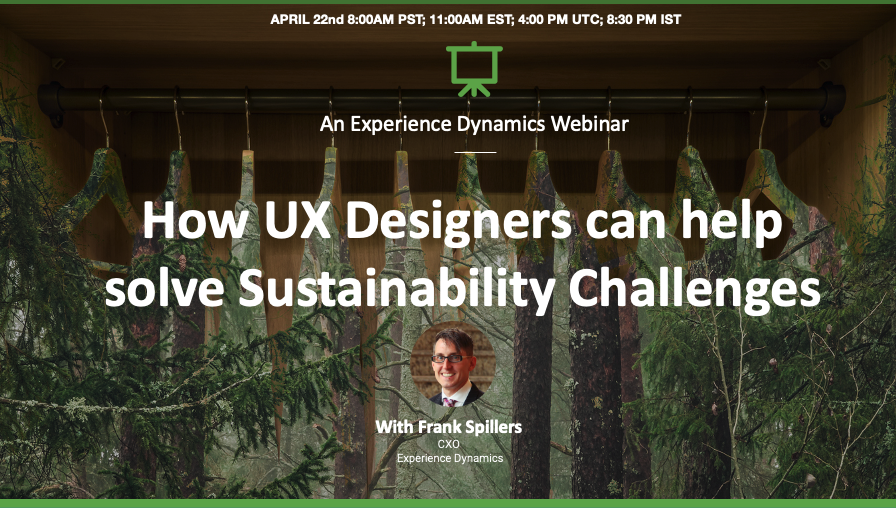 90 MINUTES –> APRIL 22nd 8:00AM PST; 11:00AM EST; 4:00 PM UTC; 8:30 PM IST (please mind time zone changes for Spring)
Defining an agenda for Practical Sustainability UX Design
Where UX Design adds value to Sustainability challenges
Assessing Impact: social, motivational, sustainable, long-term use
Data and implications from a Case Study bringing UX, Service Design, and Systems Thinking to sustainability key design questions.
Q&A
WHAT YOU WILL LEARN:
User Experience Design is making a wider impact in business and government overall than it has in the preceding 40 years. Critical to "updating" the UX field with the global challenges facing 2020-2050, UX needs a clearly articulated role in the problem-solving puzzle of sustainability. UX Designers need a tangible role and set of tools and skills to be "useful" to addressing sustainability issues.
Because Sustainability challenges involve humans (humans are the main problem generally with climate collapse), new approaches to Human-Centered Design or 'Planet-centered design' are being developed, but as with Inclusive Design and Ethics in UX Design, they need to be operationalized and systematically included in Design Thinking and design projects moving forward.
In this webinar, we will explore how UX Designs can play a pivotal role in bringing person-centered, community-centered, and planet-centered approaches to their work. Specifically, we will cover how to understand sustainability tangibly (not the philosophical idea we all agree on, 'now get back to work'). Frank Spillers will show how we can add value and impact to sustainability design challenges and illustrate the potential through a case study involving UX, Service Design, and Systems Thinking to an everyday sustainability challenge that customers deal with in the home.
***FREE WITH UX INNER CIRCLE MEMBERSHIP**
Pricing Options ($49, $99 or $349 per month)
---