Back
UX KPI Masterclass- Deepening UX measurement into every layer of your process and organization.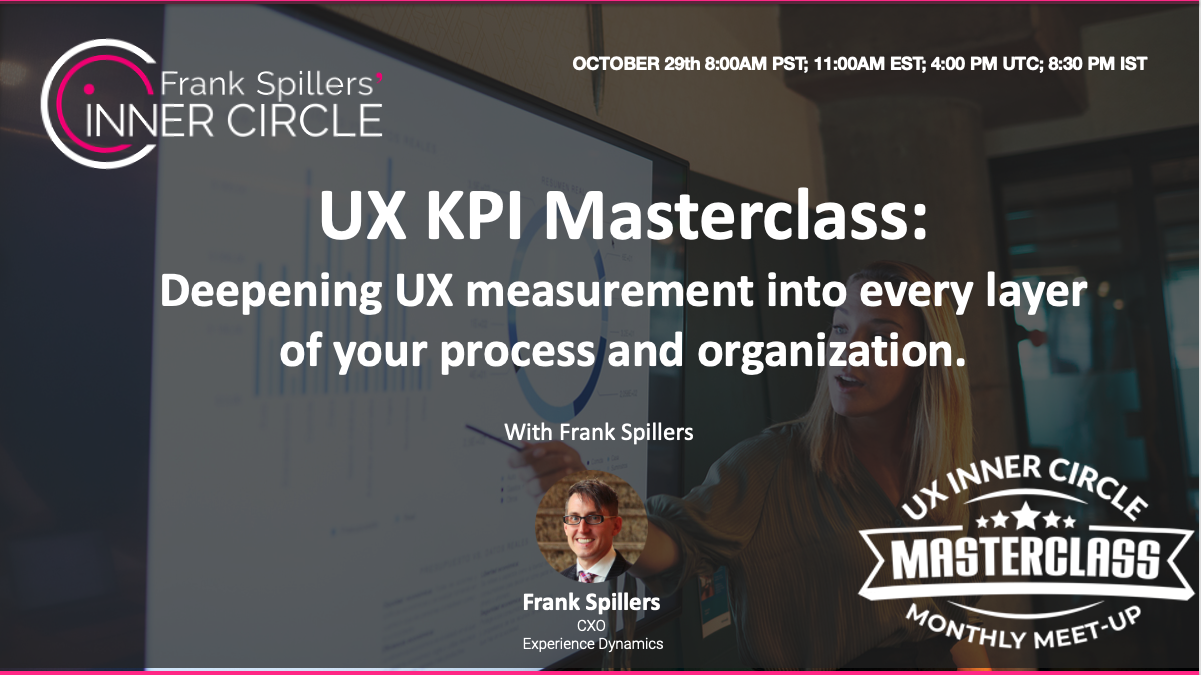 3 hours-(group activities, 1:1 access to Frank Spillers)
October 29th, 2021, at 4:00 PM BST; 8:30 PM IST; 8:00 AM PDT; 11:00 AM EDT
Promo video– what you will learn
Buy this course and recording for $100 USD:
Agenda:
This Masterclass starts with the premise, 'if you don't measure, you don't improve'. More importantly, UX is a verifiable methodology with techniques that can be measured. Not only is the return on investment (ROI) of UX necessary, the habit of measuring your impact is vital to UX maturity and repeat success. As a result, high-performing UX teams need to be based on a culture of measurement. But what to measure?
Measuring UX Key Performance Indicators (KPI's) means connecting your UX activities to business value. First, it starts with aligning the right metrics with the UX activities and outcomes you are expecting. For example, Web analytics are not enough. Furthermore, behavioral click-through analytics are equally half-measured. Instead, a mix of qualitative and quantitative KPI's are needed.
In this Masterclass, Frank Spillers will cover the business case for UX ROI as well as specific KPI's to solve specific projects and scenarios. We will cover the spectrum of UX activities ranging from Web sites and Web applications (B2C & B2B) as well as Mobile Apps and less tangible efforts such as Accessibility and Service Design. You will learn how to embed quality of UX across your process and organization.
About Monthly MasterClasses:
These monthly meet-ups are topic-driven live events with an informal presentation by Frank Spillers and group activities and discussions. Monthly MasterClasses are included as part of your membership. They allow a deep dive into important UX topics, with insights drawn from process best practices and case studies from Frank's two decades in the field.
Cost:
VALUE of $100…join the UX Inner Circle to get this and enjoy access to $10,385 worth of value- recording trainings from 20 years of Frank Spillers's work. Try it for 30-days free…
FREE FOR INNER CIRCLE MEMBERS
Want to access the MasterClass? Join now starting at USD $49 Nonprofit-Student-Emerging Market/ $99 Individual/$349 Team of 4.
---