Back
Using Surveys for UX like a pro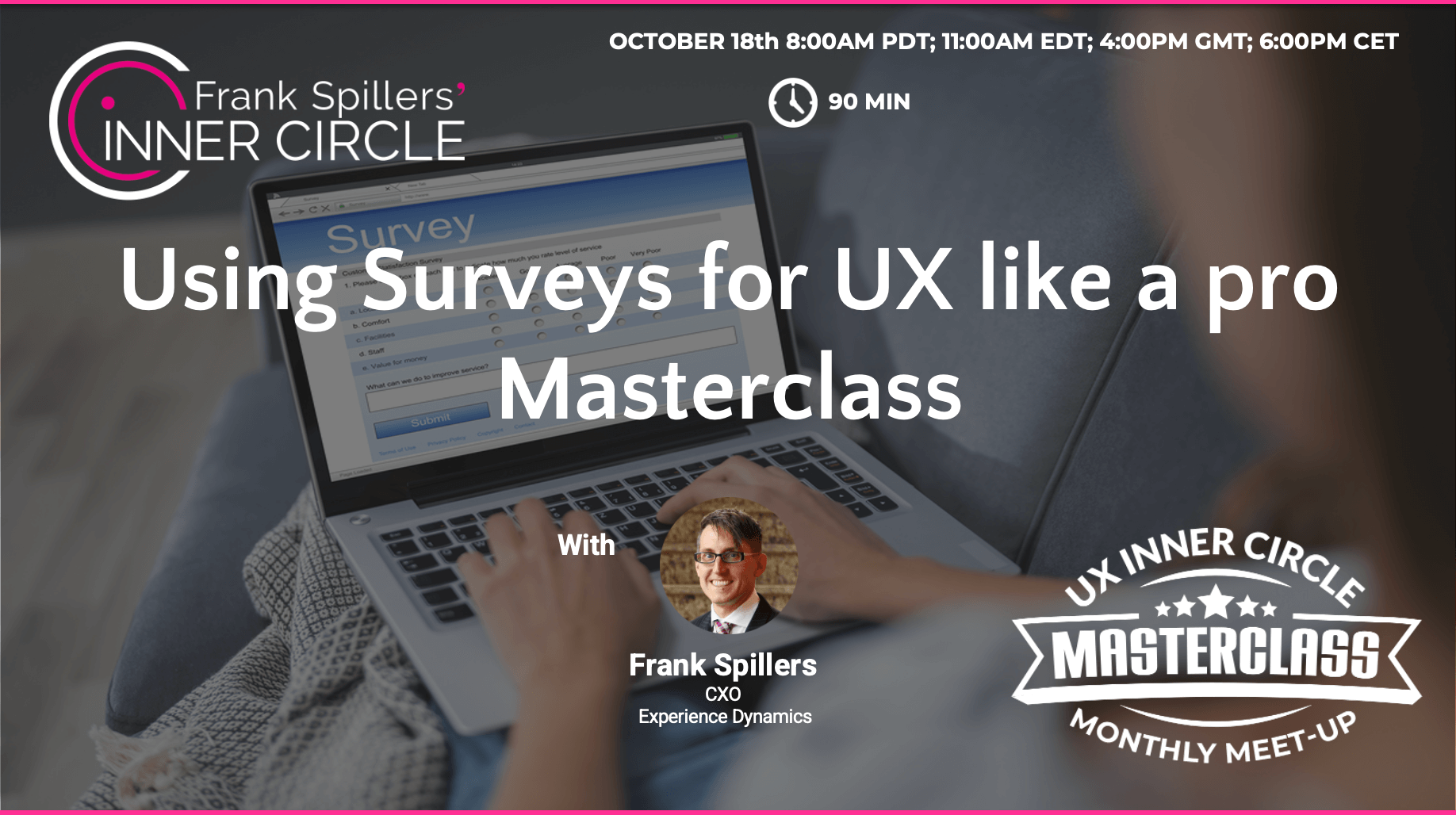 OCTOBER 18th 8:00AM PDT; 11:00AM EDT; 4:00PM GMT; 5:00PM CET
90 minutes
Cost: Buy this course and attend it live or get the recording for only $100** USD:
Free for UX Inner Circle Members–Join now, cancel anytime
How can you build strong UX research surveys?
Creating effective UX research surveys can be valuable for gaining user insights. However, they are not foolproof. Surveys like their cousin, focus groups, can provide weak, watered-down user insights. Worse, Forrester estimates that 80% of organizations leverage the survey as their primary CX/UX research method.
Why this Matters: Using surveys as a primary tool to learn about their users raises the cost of learning. This is risky because surveys can yield incomplete insights. They need to be used alongside user observation/interviews. And how surveys are built and used matters. They need to be carefully constructed and de-risked by techniques like nested conversations and progressive insights.
Learn to craft effective UX Research surveys
In this masterclass, we'll learn how to construct surveys to extract maximum insights. We'll walk through the only way you should be building surveys. This method is based on Experience Dynamics 23 years of using methods in UX research. You will learn to avoid the mistakes of when surveys don't work for UX insights.
First, we will cover survey intent: what is your objective with your survey? Are you looking to recruit participants, gather initial insights, or build on existing data? Next, crafting clear and concise questions is paramount. For example, avoid complex language and ensure each question serves a specific purpose. Use simple, non-leading language to encourage honest responses.
As a UX team, we will learn how to think about structuring questions to create a conversation flow rather than an interrogation. Finally, we will cover the best ways to use surveys to amplify UX efforts, including recruiting, screening, and preparing for Ethnographic interviews with survey insights.
In this masterclass, Frank Spillers will share how-to practical skills to create surveys that gather valuable data and engage participants in meaningful conversations. We'll emphasize survey tactics and strategy including ways to improve upon survey weaknesses to ensure your surveys are a powerful tool in your UX research arsenal.
Topics we will cover in this Masterclass:
Using surveys, eyes wide open- know your pros and cons
What surveys are good for in UX
Conversation, segmentation and logic branching
5 strategy pivots with surveys (as we practice them at Experience Dynamics)
Q&A
About Monthly MasterClasses:
These monthly meet-ups are topic-driven live events with an informal presentation by Frank Spillers and group activities and discussions. Monthly MasterClasses are included as part of your membership. They allow a deep dive into important UX topics, with insights drawn from process best practices and case studies from Frank's two decades in the field.
Cost:
Not a member? $100
Members: FREE…join the UX Inner Circle to get this and enjoy access to $10,385 worth of value- recording trainings from 20 years of Frank Spillers' work.
Buy this Masterclass on designing effective user surveys for UX research  and get it live + the recording for only $100** USD:
Why Join?
The UX Inner Circle is a professional learning community with a program of monthly events for UX researchers and designers, managers, and directors practicing UX and Service Design. We are a small group of 50+ UX and Service Designers, Directors, and Researchers currently 100% working in UX. Attendees come from orgs like Harvard, Google, IBM, Accenture, Deloitte, Capital One, US Bank, healthcare, government, and non-profits. So why join?
Refine or expand your current skills– push the boundaries of your learning.
Get advice and guidance: Put a top-performing UX expert (Frank Spillers, CEO of award-winning UX firm Experience Dynamics and top instructor at Interaction Design Foundation) in your pocket. Stay connected with the latest on what Frank is thinking and prioritizing in UX and Service Design.
Ask anything to other UXIC colleagues on a dedicated private Slack channel. Also, collaborate during monthly meet-ups (Masterclasses).
Get a promotion at work or upgrade your skills, portfolio, or process knowledge. This is the #1 reason folks keep subscribing to the UX Inner Circle.
Ready to Join the UXIC?
30- Day Free Trial (billing starts month 2)
Membership includes access to ALL monthly event recordings and more (going back 20 years of Frank's UX career). 150+ recordings.  Monthly live meet-ups (Masterclass topics) and workshops (every other month). Miniclasses (short webinars) and access to longer webinars Frank provides with his UX firm Experience Dynamics.
Financial inclusiveness membership: USD$49 per month for Nonprofit-Student- or you live in the Global South/ Emerging Market (.org; .edu)
Regular membership: USD$99 Individual per month
20% discount on Annual Price; switch anytime, cancel anytime.
Review the Pricing Options
***THIS EVENT IS FREE WITH UX INNER CIRCLE MEMBERSHIP***
---