Back
User Research MasterClass- Online to in-person UXR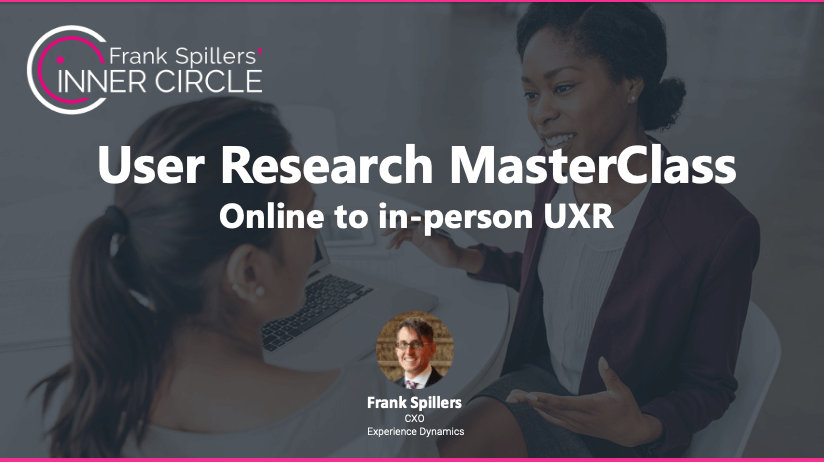 3 hours-(group activities, 1:1 access to Frank Spillers)
DATE/TIME: October 23rd 2020 at 2:00 PM UCT; 7:30 PM IST; 6:00 AM PDT; 9:00 AM EDT
Format: Zoom
**Sign-up to get this class for FREE, membership starts at $49/month. Free for members. 
Agenda: How to Conduct User Research Online
In this live Zoom MasterClass, Frank Spillers will cover the topic of User Research best practices, approaches and techniques. Conducting User Experience Research (also called "UXR") is critical to challenging assumptions and keeping a stream of insights from customers coming into your product or service development efforts. Doing UXR under conditions of poor user access, or during the pandemic requires rapid pivoting to move research activities online. UXR does not require enormous amounts of effort or cost. Conducting in-person or remote interviews, diaries or Ethnography online is possible to scale to any size organization with the right skills. Frank will cover how to conduct Lean user research and tips for scaling your UXR efforts with high-impact and low cost.
About Monthly MasterClasses:
These monthly meet-ups are topic-driven live events with an informal presentation by Frank Spillers and group activities and discussion. Monthly MasterClasses are included as part of your membership. They allow a deep dive into important UX topics, with insights drawn from process best practice and case studies from Frank's two decades in the field. The sessions will be recorded and will appear in your Digital Library under the "MasterClasses (monthly)" left navigation link.
---