Back
Sustainable Interaction Design Masterclass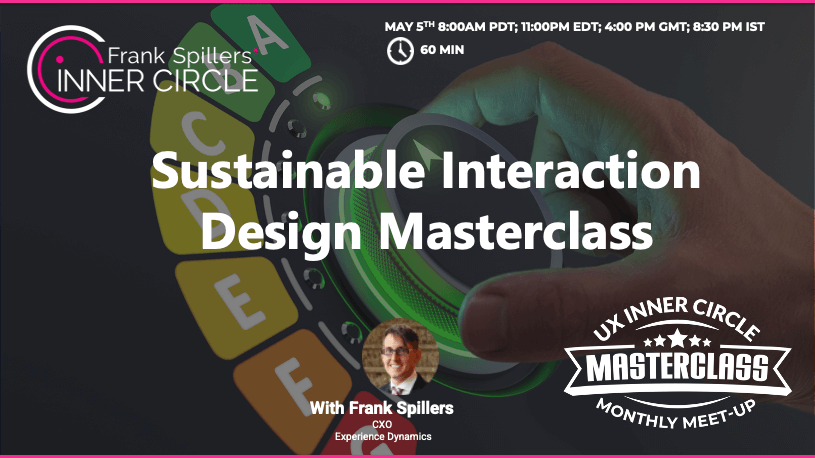 MAY 5TH 8:00AM PDT; 11:00PM EDT; 4:00 PM GMT (BST); 8:30 PM IST
1 hour
Cost: Buy this course and attend it live or get the recording for only $100** USD:
Free for UX Inner Circle Members–Join now, cancel anytime
Why Sustainable UX Design?
Sustainability UX represents the efforts of the UX community to address climate emergency challenges. As more attention is given to the topic (see Grandfather of Human-Centered Design, Don Norman's latest definition, Humanity-Centered Design), designers and researchers need refreshed practices to tackle new interaction design challenges.
Sustainable Interaction Design (SID) brings together tools, checklists, and mindsets for prioritizing sustainability in your work. However, a planet-centric design approach that emphasizes radical approaches to addressing renewability and regenerative methods must also put people at the center. In this way, it is better to think of this approach as what Chris Golias, Sr. User Researcher at Google calls "Donut-centered design". The "donut economics" model advocated by Kate Raworth stresses the need to keep social systems (communities, individuals), the inner ring of the donut, in balance while simultaneously addressing planetary capacity and infrastructure (the outer ring of the donut).
How can we start practicing Donut-Centered Design?
To deal with the complexity of problems facing the planet and communities living in the balance, we need fresh approaches to design. 'Donut-centered' techniques like Circular Design or Sustainable Interaction Design combine tools, checklists, and mindsets that help structure the practical adoption of these methods to Business as Usual UX design.
In this Masterclass, we will apply a Sustainable UX Toolkit to multiple scenarios that require radical design thinking. We will see where sustainable interaction design can provide fresh ways to frame and approach design challenges.  In this way, participants will come away with a working framework and application of sustainability UX that can be built into existing process going forward.
Topics this Sustainable UX masterclass will cover:
What is Sustainable Interaction Design?
How can we leverage realistic and practical strategies and tactics in our designs?
Stakeholder tips: What to tell your team (i.e. sustainability is not a solo cause of a concerned designer)
How can we bring UX and Service Design mindsets and approaches to building sustainability into value propositions as a default?
Scenario activity- applying the Sustainable Interaction Design Toolkit to practical challenges
About Monthly MasterClasses:
These monthly meet-ups are topic-driven live events with an informal presentation by Frank Spillers and group activities and discussions. Monthly MasterClasses are included as part of your membership. They allow a deep dive into important UX topics, with insights drawn from process best practices and case studies from Frank's two decades in the field.
Cost:
Not a member? $100
Members: FREE…join the UX Inner Circle to get this and enjoy access to $10,385 worth of value- recording trainings from 20 years of Frank Spillers' work.
Buy this Sustainable Design Masterclass and get it live + the recording for only $100** USD:
Why Join?
The UX Inner Circle is a professional learning community with a program of monthly events for UX researchers and designers, managers, and directors practicing UX and Service Design. We are a small group of 50+ UX and Service Designers, Directors, and Researchers currently 100% working in UX. Attendees come from orgs like Harvard, Google, IBM, Accenture, Deloitte, Capital One, US Bank, healthcare, government, and non-profits. So why join?
Refine or expand your current skills– push the boundaries of your learning.
Get advice and guidance: Put a top-performing UX expert (Frank Spillers, CEO of award-winning UX firm Experience Dynamics and top instructor at Interaction Design Foundation) in your pocket. Stay connected with the latest on what Frank is thinking and prioritizing in UX and Service Design.
Ask anything to other UXIC colleagues on a dedicated private Slack channel. Also, collaborate during monthly meet-ups (Masterclasses).
Get a promotion at work or upgrade your skills, portfolio, or process knowledge. This is the #1 reason folks keep subscribing to the UX Inner Circle.
Ready to Join the UXIC?
30- Day Free Trial (billing starts month 2)
Membership includes access to ALL monthly event recordings and more (going back 20 years of Frank's UX career). 150+ recordings.  Monthly live meet-ups (Masterclass topics) and workshops (every other month). Miniclasses (short webinars) and access to longer webinars Frank provides with his UX firm Experience Dynamics.
Financial inclusiveness membership: USD$49 per month for Nonprofit-Student- or you live in the Global South/ Emerging Market (.org; .edu)
Regular membership: USD$99 Individual per month
20% discount on Annual Price; switch anytime, cancel anytime.
Review the Pricing Options
***THIS EVENT IS FREE WITH UX INNER CIRCLE MEMBERSHIP***
---