Back
Masterclass- Getting the details of usability testing right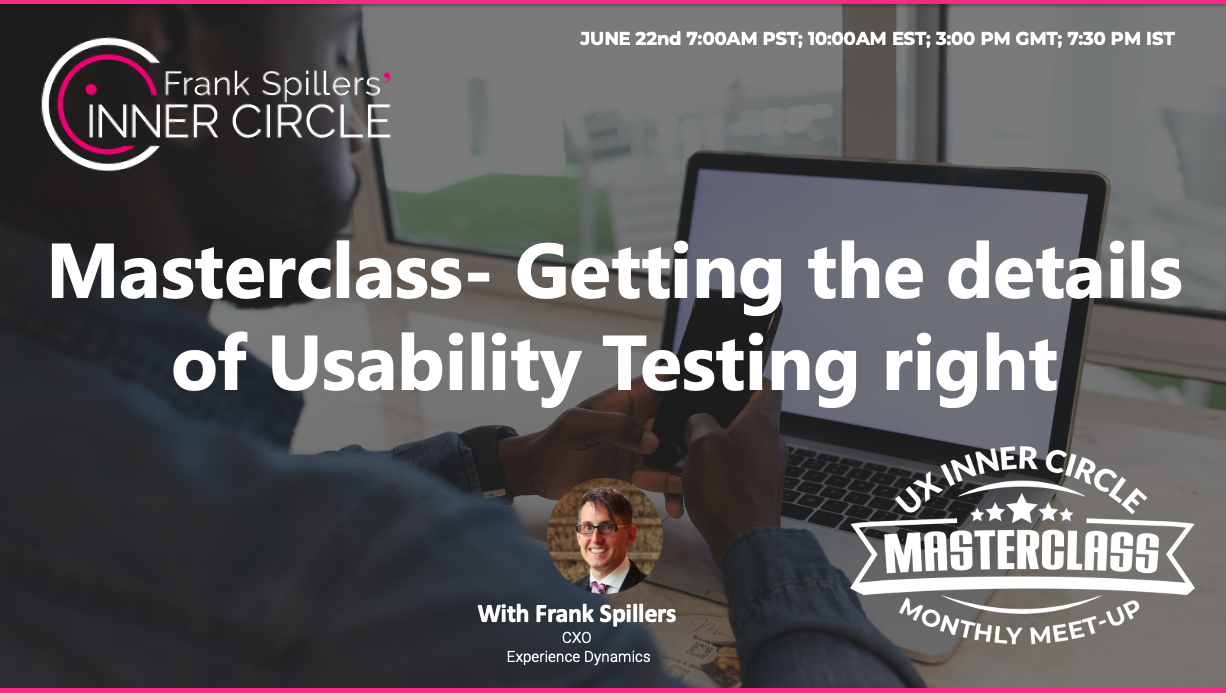 JUNE 22nd 7:00AM PDT; 10:00AM EDT; 3:00 PM BST; 7:30 PM IST
2.5 hours -(group activities, 1:1 access to Frank Spillers) 
Free with Inner Circle membership
Usability testing is an essential part of steering designs in the right direction or in quantifying their efficacy with your intended audience. Getting quality insights and data is vital. User testing is not market research and should be conducted with best-practice methods.
This Masterclass will cover the ins and outs of setting up and moderating user tests including how to get the best from the technique by following proven practices.  In this Masterclass you will learn how to set up and conduct a usability test, including the following topics:
Set up and conduct a usability test: When to test? What to test?
What type of usability test and why (Formative vs Summative; low-fi vs high-fi and more).
Better Recruiting- no more "down the hallway testing" please.
Sample size: when the 5-user size sample fails.
Tips for engaging stakeholders.
Creating a bias-informed test plan.
Moderation insider tips and secrets of good moderation (verbal, non-verbal, listening, and observation skills).
About Monthly MasterClasses:
These monthly meet-ups are topic-driven live events with an informal presentation by Frank Spillers and group activities and discussions. Monthly MasterClasses are included as part of your membership. They allow a deep dive into important UX topics, with insights drawn from process best practices and case studies from Frank's two decades in the field.
Cost:
VALUE of $100…join the UX Inner Circle to get this and enjoy access to $10,385 worth of value- recording trainings from 20 years of Frank Spillers's work. Try it for 30-days free…
FREE FOR INNER CIRCLE MEMBERS
Want to access the MasterClass? Join now starting at USD $49 Nonprofit-Student-Emerging Market/ $99 Individual/$349 Team of 4.
---