Back
Masterclass: Accessibility ready with WCAG 3.0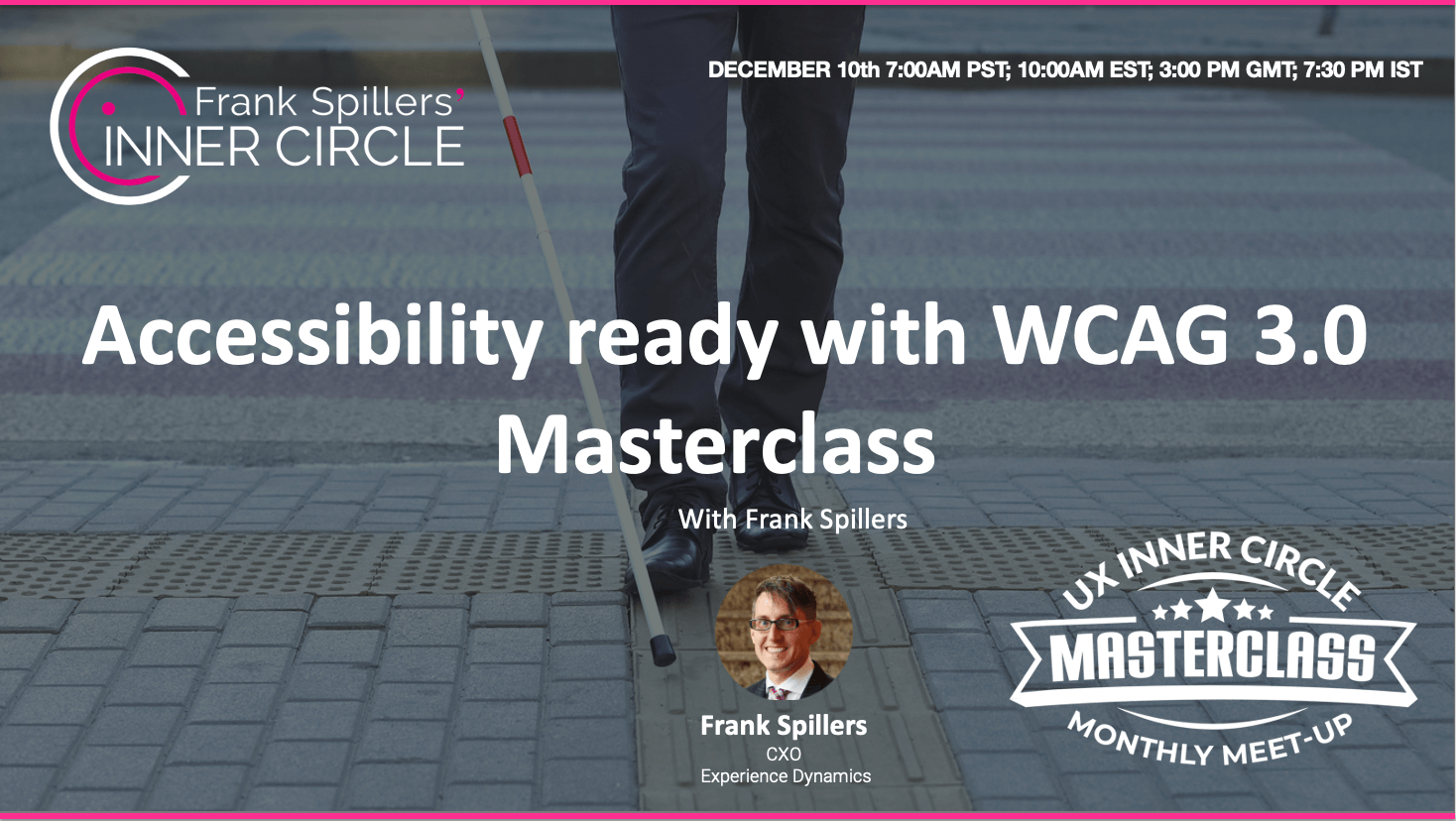 DECEMBER 10th 7:00AM PST; 10:00AM EST; 3:00 PM GMT; 7:30 PM IST
3 hours-(group activities, 1:1 access to Frank Spillers)
Buy this course and recording for $100 USD:
Agenda:
If you are working on an Accessibility project, you ought to be paying careful attention to the WCAG 3.o Guidelines. Note: Yes the guidelines are currently in draft mode now, but they will be standard very soon. In this Masterclass, we cover the latest Accessibility guidelines from the W3 consortium, as well as the US Section 508 Refresh of 2018 + EU Accessibility Directive of 2018. This Masterclass aims to get you ready for adjusting your accessibility efforts around the new approaches and criteria contained in WCAG 3.0. To be clear, WCAG 3.0.is a welcomed update that improves how we deliver accessibility commitments. It moves us toward a more accurate and inclusive approach to how we evaluate, test, and optimize the accessibility user experience for persons with disabilities.
Topics to be covered in this Masterclass:
The business case for accessibility.
Tools for engaging stakeholders with accessibility.
Bringing in a disability-centric model to Agile accessibility.
Navigating the WCAG 3.0 guidelines.
Adjusting your "pass" and conformance criteria.
Conducting 'Holistic testing' with users with disabilities.
Re-evaluating your inclusion commitments: What's beyond "AA" compliance?
Updating how you evaluate including VPAT reporting (Voluntary Product Accessibility Template).
Tips for implementing an accessibility program.
Scaling accessible User Research or aUXR and inclusive ResearchOps strategy.
About Monthly MasterClasses:
These monthly meet-ups are topic-driven live events with an informal presentation by Frank Spillers and group activities and discussions. Monthly MasterClasses are included as part of your membership. They allow a deep dive into important UX topics, with insights drawn from process best practices and case studies from Frank's two decades in the field.
Cost:
VALUE of $100…join the UX Inner Circle to get this and enjoy access to $10,385 worth of value- recording trainings from 20 years of Frank Spillers's work. Try it for 30-days free…
FREE FOR INNER CIRCLE MEMBERS
Want to access the MasterClass? Join now starting at USD $49 Nonprofit-Student-Emerging Market/ $99 Individual/$349 Team of 4.
---