Back
Market Research vs User Research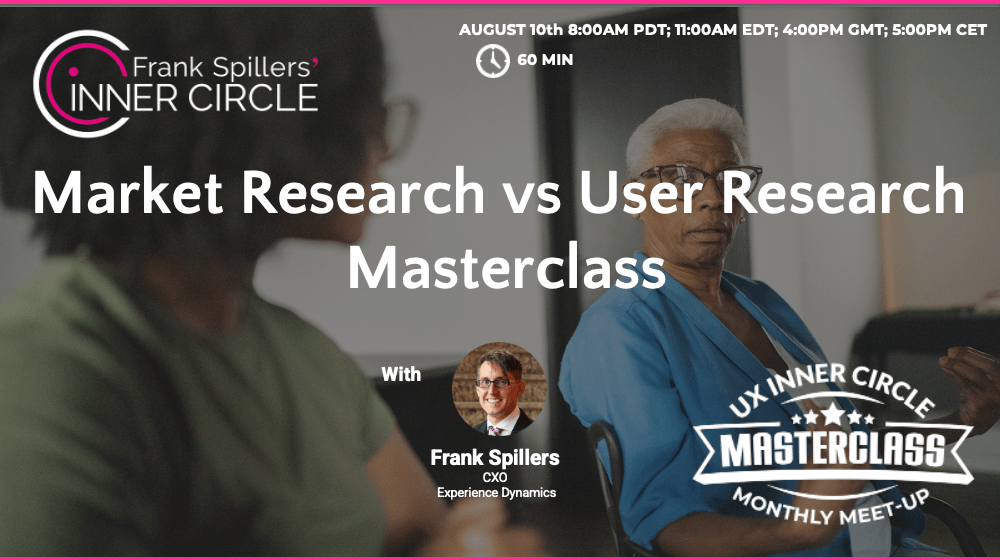 AUGUST 10th 8:00AM PDT; 11:00AM EDT; 4:00PM GMT; 5:00PM CET
60 minutes
Cost: Buy this course and attend it live or get the recording for only $100** USD:
Free for UX Inner Circle Members–Join now, cancel anytime
Market Research vs User Research: Use them both in UX?
Research is critical in developing context intelligence, or the ability to verify your problem and learn about the needs emerging from your "problem space". So is research just "research"? In other words, can you do a focus group and call that UX Research?
This Masterclass will cover the distinctions you need to get the best insights to impact user experience outcomes. This important topic is critical to doing UX properly. For many stakeholders, including UX consultants and authors, there are little differences between Market research and User Research. This is a huge mistake. In this Masterclass, we will discover why and how to explain this to teams and leaders unfamiliar with UX research.
The Differences between Market Research and User Research
First, Market Research comes from and is owned by Marketing. UX is not marketing, and it would be naive to treat it as such. The field of UX lives in the discipline of Human-Computer Interaction (HCI) with the field of Cognitive Science. Cognitive Science brings Computer Science, Psychology, Anthropology, Linguistics, and other fields together. For this reason, Market Research needs to be understood as distinct from UX Research.
Next, the goals and techniques of User Research, unlike Market Research, have a distinct agenda to guide designers and developers in design decisions. UX Research empowers users of digital products or services while influencing UX outcomes like desirability, learnability, efficiency, and the user adoption lifecycle.
Market Research can tell you if your user likes a design (an opinion), while User Research should tell you why you have prioritized a feature or optimized a design (an observation), often not even asking users for their direct, subjective thoughts. 
Don't do Market Research and call it UX Research.
To be clear, both forms of research play essential roles in developing successful products and services, but they differ significantly in their objectives, methodologies, and tools. In this Masterclass, we will explore the contrasting features of market research and user research, and why it is crucial not to view one as a substitute for the other.
Where Market Research aims to analyze the broader market landscape, UX Research delves deep into understanding individual user behaviors and their needs. A comprehensive approach that combines the strengths of both methodologies is crucial to develop products and services that resonate with consumers while embracing market opportunities. By giving due justice to each type of research and avoiding misconceptions, companies can gain valuable insights that empower them to design products that address the market and the individual user experience.
Topics we will cover in this session:
Setting the record straight: UX Research vs Market Research
Settling debates: Qual vs Quant and Behavioral Science
Educating stakeholders: making the case for UX Research
Q&A
About Monthly MasterClasses:
These monthly meet-ups are topic-driven live events with an informal presentation by Frank Spillers and group activities and discussions. Monthly MasterClasses are included as part of your membership. They allow a deep dive into important UX topics, with insights drawn from process best practices and case studies from Frank's two decades in the field.
Cost:
Not a member? $100
Members: FREE…join the UX Inner Circle to get this and enjoy access to $10,385 worth of value- recording trainings from 20 years of Frank Spillers' work.
Cost: Buy this course and attend it live or get the recording for only $100** USD:
Free for UX Inner Circle Members–Join now, cancel anytime
Why Join?
The UX Inner Circle is a professional learning community with a program of monthly events for UX researchers and designers, managers, and directors practicing UX and Service Design. We are a small group of 50+ UX and Service Designers, Directors, and Researchers currently 100% working in UX. Attendees come from orgs like Harvard, Google, IBM, Accenture, Deloitte, Capital One, US Bank, healthcare, government, and non-profits. So why join?
Refine or expand your current skills– push the boundaries of your learning.
Get advice and guidance: Put a top-performing UX expert (Frank Spillers, CEO of award-winning UX firm Experience Dynamics and top instructor at Interaction Design Foundation) in your pocket. Stay connected with the latest on what Frank is thinking and prioritizing in UX and Service Design.
Ask anything to other UXIC colleagues on a dedicated private Slack channel. Also, collaborate during monthly meet-ups (Masterclasses).
Get a promotion at work or upgrade your skills, portfolio, or process knowledge. This is the #1 reason folks keep subscribing to the UX Inner Circle.
Ready to Join the UXIC?
30- Day Free Trial (billing starts month 2)
Membership includes access to ALL monthly event recordings and more (going back 20 years of Frank's UX career). 150+ recordings.  Monthly live meet-ups (Masterclass topics) and workshops (every other month). Miniclasses (short webinars) and access to longer webinars Frank provides with his UX firm Experience Dynamics.
Financial inclusiveness membership: USD$49 per month for Nonprofit-Student- or you live in the Global South/ Emerging Market (.org; .edu)
Regular membership: USD$99 Individual per month
20% discount on Annual Price; switch anytime, cancel anytime.
Review the Pricing Options
***THIS EVENT IS FREE WITH UX INNER CIRCLE MEMBERSHIP***
---