Back
LIVE MasterClass: Making the Super-Business case: UX, Accessibility, and Service Design. Strategies for fighting for UX.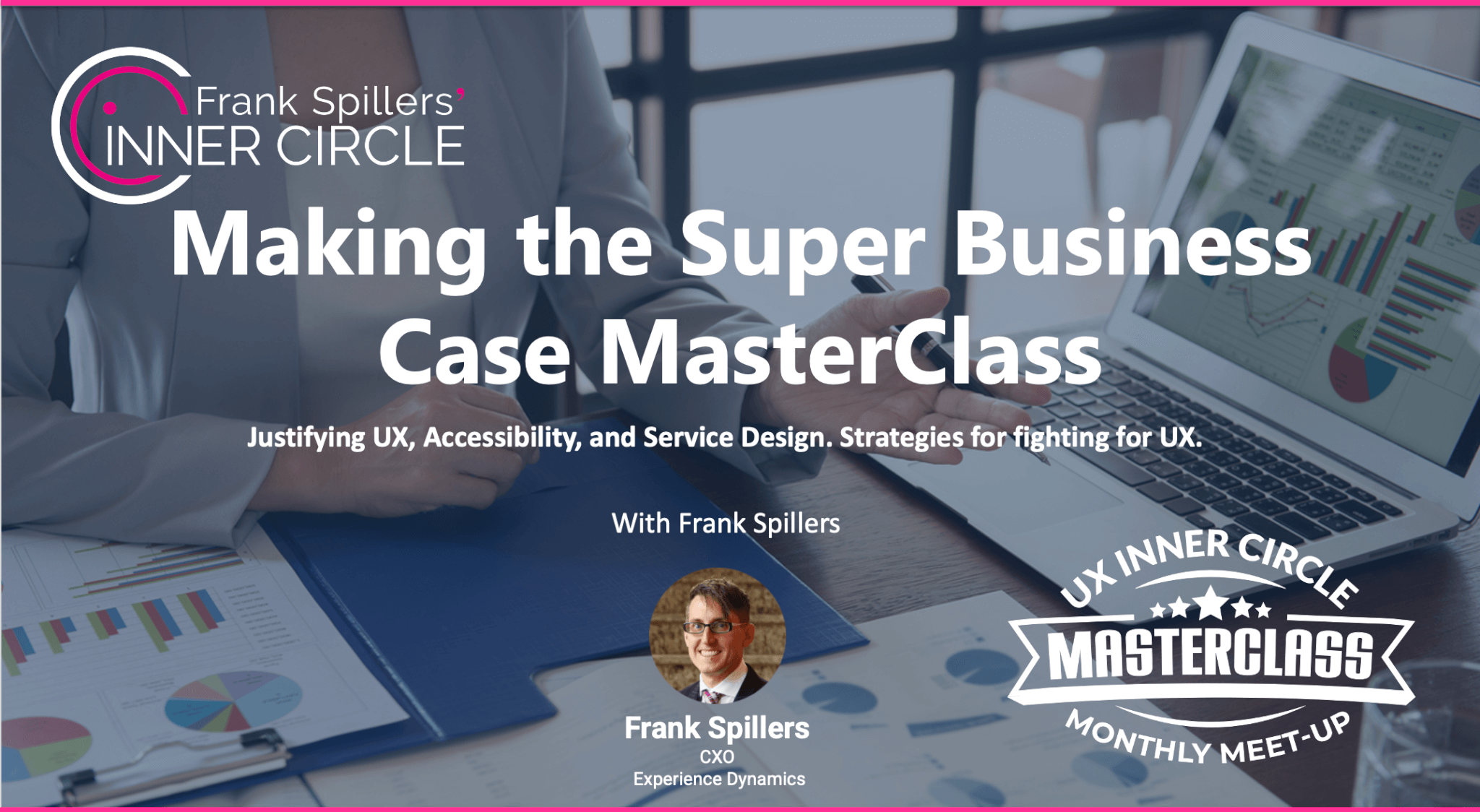 3 hours-(group activities, 1:1 access to Frank Spillers)
DATE/TIME: December 30th 2020 at 2:00 PM UTC; 6:30 PM IST; 6:00 AM PST; 9:00 AM EST
Format: Zoom
Agenda:
In this live Zoom MasterClass, Frank Spillers will cover the topic of Making the triple Business UX business case: UX Design, Accessibility & Service Design. More than any other activity (Marketing, Engineering, Product Mgmt etc), UX activities need to be justified, rationalized, and defended for their business value. In this month's MasterClass we delve into the tactics and strategies for getting organizations and leadership to "come around" to UX. The lack of understanding of UX causes many problems for UX Designers and UX Researchers and it all starts with justifying UX by the numbers. In this monthly meet-up of the UX Inner Circle, Frank will teach you how to make the business case for UX, including Return on Investment (ROI)and UX and will extend this to even more challenging UX practices which add tremendous value to users and to organizations: Accessibility and Service Design.
About Monthly MasterClasses:
These monthly meet-ups are topic-driven live events with an informal presentation by Frank Spillers and group activities and discussion. Monthly MasterClasses are included as part of your membership. They allow a deep dive into important UX topics, with insights drawn from process best practice and case studies from Frank's two decades in the field.
Cost: VALUE of $100 Your cost: FREE TO INNER CIRCLE MEMBERS (Non-members join now starting at $49/$99 www.uxinnercircle.com).
The sessions will be recorded and will appear in your Digital Library under the "MasterClasses (monthly)" left navigation link.
---