Back
LIVE MasterClass: Leveraging Service Design techniques to connect cross-channel customer experience.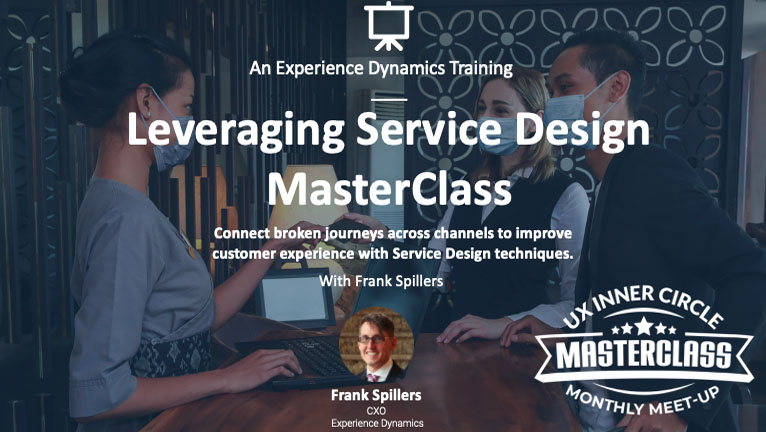 3 hours-(group activities, 1:1 access to Frank Spillers)
DATE/TIME: January 29th 2021 at 2:00 PM UTC; 6:30 PM IST; 6:00 AM PST; 9:00 AM EST
Format: Zoom
Agenda:
In this live Zoom MasterClass, Frank Spillers will cover the topic of Service Design. Service Design is a Human-Centered Design approach to: a) Identifying broken systems (eg. customer service/product experiences or interfaces; workflow, processes, and procedures; IT/ Operations systems/data; )…and, b) Improving inefficiency, friction, and wasted opportunities to connect employees or systems more deeply with customer needs and experiences across channels equally.
In this monthly meet-up of the UX Inner Circle, Frank will show you how Service Design can go where UX on its own can not. We will contrast UX to Service Design techniques and then review typically broken service journeys with an emphasis on Homelessness, COVID retail experiences, Healthcare and Government-related experiences, and service responsiveness. Frank will guide you through Service Design approaches to repairing broken journeys and reconnecting omnichannel value across stakeholders and services (Touchpoints, Moments, and Interactions).
About Monthly MasterClasses:
These monthly meet-ups are topic-driven live events with an informal presentation by Frank Spillers and group activities and discussion. Monthly MasterClasses are included as part of your membership. They allow a deep dive into important UX topics, with insights drawn from process best practices and case studies from Frank's two decades in the field.
Cost:
VALUE of $100…join the UX Inner Circle to get this and enjoy access to $10,385 worth of value- recording trainings from 20 years of Frank Spillers's work.
FREE FOR INNER CIRCLE MEMBERS
Want to access the MasterClass? Join now starting at USD $49 Nonprofit-Student-Emerging Market/ $99 Individual/$349 Team of 4
---