Back
LIVE MasterClass: Learning from anti-patterns: Bad UI, Worse UX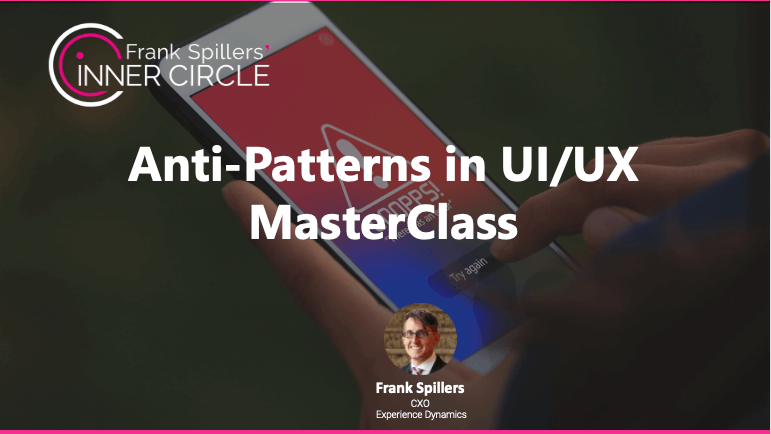 3 hours-(group activities, 1:1 access to Frank Spillers)
DATE/TIME: November 11th 2020 at 3:00 PM GMT; 8:30 PM IST; 7:00 AM PST;10:00 AM EST
Format: Zoom
More about the event: https://youtu.be/93MhHu08yEE (Video 1.5 min)
Agenda:
In this live Zoom MasterClass, Frank Spillers will cover the topic of Anti-Patterns starting with UI anti-patterns and their functional and ethical failures and concluding with UX process. Consistent and strategic UI/UX is absolutely critical in today's competitive business environment. Better yet, being able to deliver consistent and strategic UI/UX is the holy grail. Research shows that having a consistent and defined UX process that you can turn to is a sign of UX maturity. UX maturity means your organization is benefiting from the documented ROI of UX, not just working the tactical level of buttons and menus. In this monthly meet-up of the UX Inner Circle, Frank will take you through a playful discovery of how to create good UI/UX through bad UI decisions, and even worse how to build UX process by making all the mistakes "epic fail" organizations make!
About Monthly MasterClasses:
These monthly meet-ups are topic-driven live events with an informal presentation by Frank Spillers and group activities and discussion. Monthly MasterClasses are included as part of your membership. They allow a deep dive into important UX topics, with insights drawn from process best practice and case studies from Frank's two decades in the field.
The sessions will be recorded and will appear in your Digital Library under the "MasterClasses (monthly)" left navigation link.
---