Back
LIVE MasterClass: Getting Journey Mapping & Personas right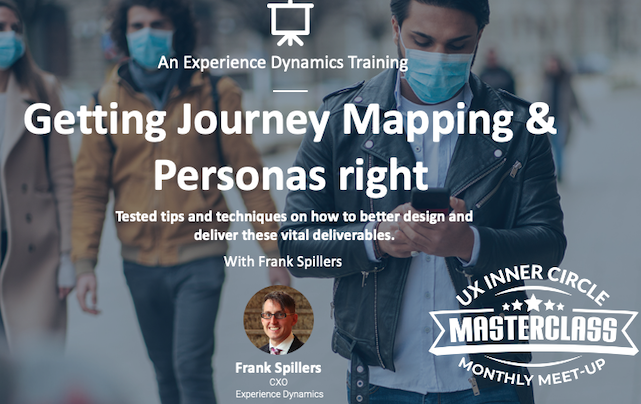 3 hours-(group activities, 1:1 access to Frank Spillers)
DATE/TIME: February 24th 2021 at 2:00 PM UTC; 6:30 PM IST; 6:00 AM PST; 9:00 AM EST
Format: Zoom
Video promo: https://youtu.be/f9B07EOSOR8
Agenda:
Core to UX research and UX design is understanding who you are designing for and why you are supporting them. In this live Zoom MasterClass, Frank Spillers will cover the topic of Journey Mapping and Personas: "Getting Journey Mapping & Personas right- tested tips and techniques on how to better design and deliver these vital deliverables". Journey Maps and Personas sit underneath all product and service UX design. How you create them and how you use them determines your success levels with evidence-based UX decisions.
Customer Journey Mapping and Personas are a regular technique but they are sadly misused or misplaced by all too many UX practitioners. User data or evidence from the field is vital to good design decision-making, and to building organizational momentum around Outside-In Design. Good personas and journey maps can help to dismantle the culture of assumption that goes into most product and service design process. Frank will share many examples where personas were rejected, accepted and where they transformed organizational UX maturity and momentum.
In this MasterClass, we will get to the bottom of tried and tested techniques for developing Journey Maps and Personas. Frank will discuss essential lessons from dozens of projects and over a decade of learning how to get these techniques right. He will cover Lean UX research methods for "light and fast" online User Research including how to capture, analyze and synthesize user insights and user data to make the right choices for users.
About Monthly MasterClasses:
These monthly meet-ups are topic-driven live events with an informal presentation by Frank Spillers and group activities and discussion. Monthly MasterClasses are included as part of your membership. They allow a deep dive into important UX topics, with insights drawn from process best practices and case studies from Frank's two decades in the field.
Cost:
VALUE of $100…join the UX Inner Circle to get this and enjoy access to $10,385 worth of value- recording trainings from 20 years of Frank Spillers's work.
FREE FOR INNER CIRCLE MEMBERS
Want to access the MasterClass? Join now starting at USD $49 Nonprofit-Student-Emerging Market/ $99 Individual/$349 Team of 4
---