Back
Insight Sprints- bringing your team along the user research journey- Workshop part 2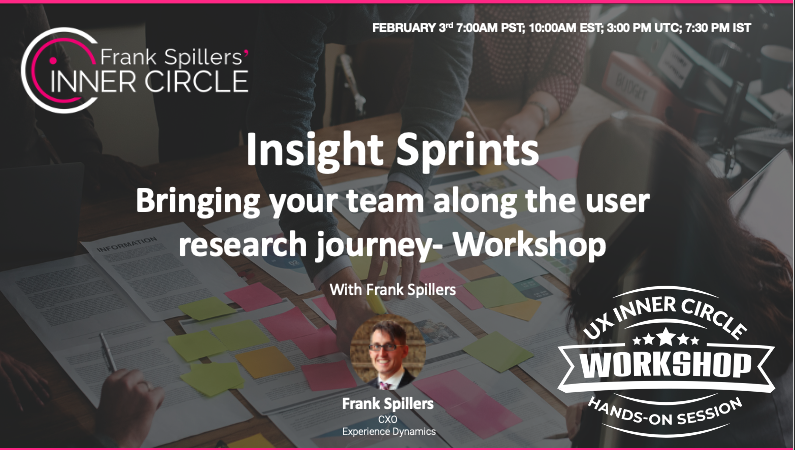 FEBRUARY 3rd 7:00AM PST; 10:00AM EST; 3:00 PM GMT; 7:30 PM IST
Part 2 continues the online Insight Sprint
Live with Frank Spillers
This workshop builds on the 'This is Ethnography Doing' workshop.
Insight Sprints are a new method proposed by Etienne Fang (Principal Researcher at Amazon). The Insight Sprint builds on the Design Sprint method of socializing the design process in your organization and making informed decisions fast.
This workshop focus on the Insight Sprint method applied to real data captured in our previous workshop: This is Ethnography Doing. Socializing user research and giving teams a first-hand view of evidence from the field study is key. For example, exploring user pain points and context of use can inform better design decisions. Better still, product and service teams that are engaged in UX Research spot more opportunities and are better capable of responding to them. The result? Longer-term views of customer value and exchange of value between your company and customers. Moreover, teams that leverage user research insights tend to be more Outside-In design-driven. The Insights Sprint is a practical tool to get teams to use and value customer behavior data.
This workshop will map out a practical Insight Sprint approach for conducting workshops with your stakeholders that can be used in parallel to the Design Sprint method developed at Google.
Note: This workshop will be split into smaller working sessions.
About UX Inner Circle Workshops:
These workshops are live events with an informal presentation by Frank Spillers and group activities and discussions, with a more hands-on experience to learning the material presented. Online workshops are included as part of your UX Inner Circle membership. They allow a deep study of UX topics, with insights drawn from process best practices and case studies from Frank Spillers two decades in the field.
Cost:
VALUE of $399…join the UX Inner Circle to get this and enjoy access to $10,385 worth of value- recording trainings from 20 years of Frank Spillers's work.
FREE FOR INNER CIRCLE MEMBERS
Want to access the MasterClass? Join now starting at USD $49 Nonprofit-Student-Emerging Market/ $99 Individual/$349 Team of 4
***FREE WITH UX INNER CIRCLE MEMBERSHIP**
Pricing Options ($49, $99 or $349 per month)
---