Back
Improv for UX Masterclass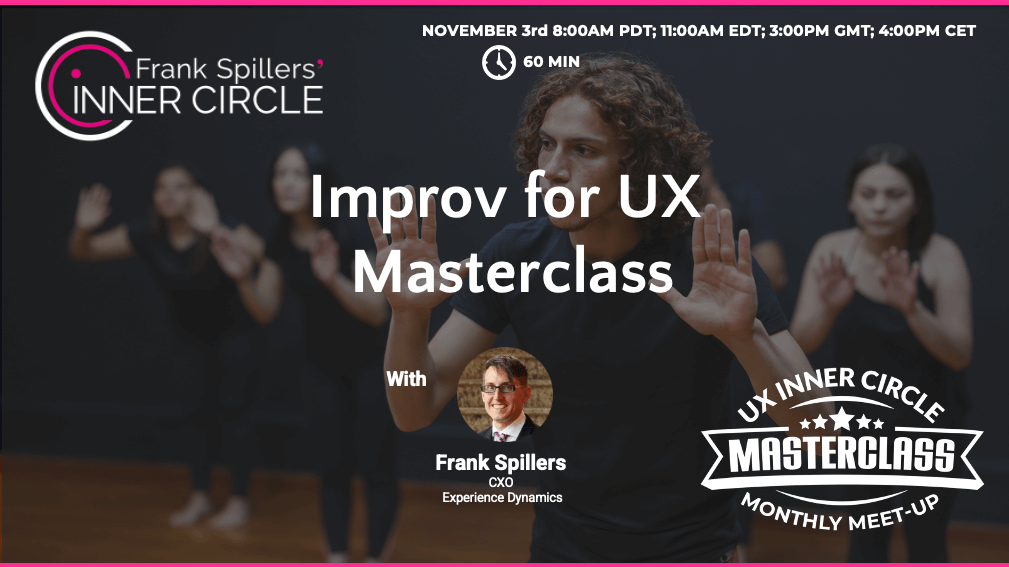 NOVEMBER 3rd 8:00AM PDT; 11:00AM EDT; 3:00PM GMT; 4:00PM CET
Note: US clocks go back Nov 5th; UK BST and EU CET end Oct 29th.
60 minutes
Cost: Buy this course and attend it live or get the recording for only $100** USD:
Free for UX Inner Circle Members–Join now, cancel anytime
How can improv make UX better?
Improv offers a set of techniques and mindsets that can supercharge UX and Service Design efforts. By leveraging improvisation skills, we can improve UX deliverables and stakeholder communication. It can even be used to improve your results from generative AI.
In a past workshop on Product-Service prototyping in the UX Inner Circle, we stumbled upon the use of improv to bring personas to life. In this unscripted activity, participants brought the pain and drama of research-based personas to the prototyping workshop. The result was hilarious and powerful. This Masterclass aims to continue developing this essential skill.
What the research says
Improv's power is undeniable. Research has shown that improvisation techniques make us better listeners, communicators, collaborators, and innovators. Specifically:
Improv improves design brainstorming. Not only are results better from this classically weak technique, but studies show it is enhanced through 'bodystorming'.
Improv is used regularly in Service Design prototyping, where intangible value might be more difficult to understand 'on paper'.
Improv boosts creativity, generally, since it is believed that it may be how we engage our creativity abilities.
3 ways Improv can help your UX efforts
In this Masterclass, you will learn how Improv can make a difference in your everyday communication and collaboration. Specifically, you'll learn:
How Improv can improve your influencing of stakeholders and work with diverse teams.
How Improv can improve your exploration of context of use and understanding behavior and motivations from Personas.
How Improv can help you get better results from using and creating AI-enabled solutions.
Topics we will cover in this Masterclass:
Boost stakeholder engagement and communication through improvisation.
Enhance the creation of user personas using improv-inspired methods.
Break down barriers and foster open dialogue with clients and team members.
How to create richer, more empathetic personas through improvisational role-playing.
Generate innovative design ideas on the fly.
How to "out-improvise" your generative AI work.
About Monthly MasterClasses:
These monthly meet-ups are topic-driven live events with an informal presentation by Frank Spillers and group activities and discussions. Monthly MasterClasses are included as part of your membership. They allow a deep dive into important UX topics, with insights drawn from process best practices and case studies from Frank's two decades in the field.
Cost:
Not a member? $100
Members: FREE…join the UX Inner Circle to get this and enjoy access to $10,385 worth of value- recording trainings from 20 years of Frank Spillers' work.
Buy this Imrov UX Masterclass and get it live + the recording for only $100** USD:
Why Join?
The UX Inner Circle is a professional learning community with a program of monthly events for UX researchers and designers, managers, and directors practicing UX and Service Design. We are a small group of 50+ UX and Service Designers, Directors, and Researchers currently 100% working in UX. Attendees come from orgs like Harvard, Google, IBM, Accenture, Deloitte, Capital One, US Bank, healthcare, government, and non-profits. So why join?
Refine or expand your current skills– push the boundaries of your learning.
Get advice and guidance: Put a top-performing UX expert (Frank Spillers, CEO of award-winning UX firm Experience Dynamics and top instructor at Interaction Design Foundation) in your pocket. Stay connected with the latest on what Frank is thinking and prioritizing in UX and Service Design.
Ask anything to other UXIC colleagues on a dedicated private Slack channel. Also, collaborate during monthly meet-ups (Masterclasses).
Get a promotion at work or upgrade your skills, portfolio, or process knowledge. This is the #1 reason folks keep subscribing to the UX Inner Circle.
Ready to Join the UXIC?
30- Day Free Trial (billing starts month 2)
Membership includes access to ALL monthly event recordings and more (going back 20 years of Frank's UX career). 150+ recordings.  Monthly live meet-ups (Masterclass topics) and workshops (every other month). Miniclasses (short webinars) and access to longer webinars Frank provides with his UX firm Experience Dynamics.
Financial inclusiveness membership: USD$49 per month for Nonprofit-Student- or you live in the Global South/ Emerging Market (.org; .edu)
Regular membership: USD$99 Individual per month
20% discount on Annual Price; switch anytime, cancel anytime.
Review the Pricing Options
***THIS EVENT IS FREE WITH UX INNER CIRCLE MEMBERSHIP***
---