Back
How CX and UX work together Miniclass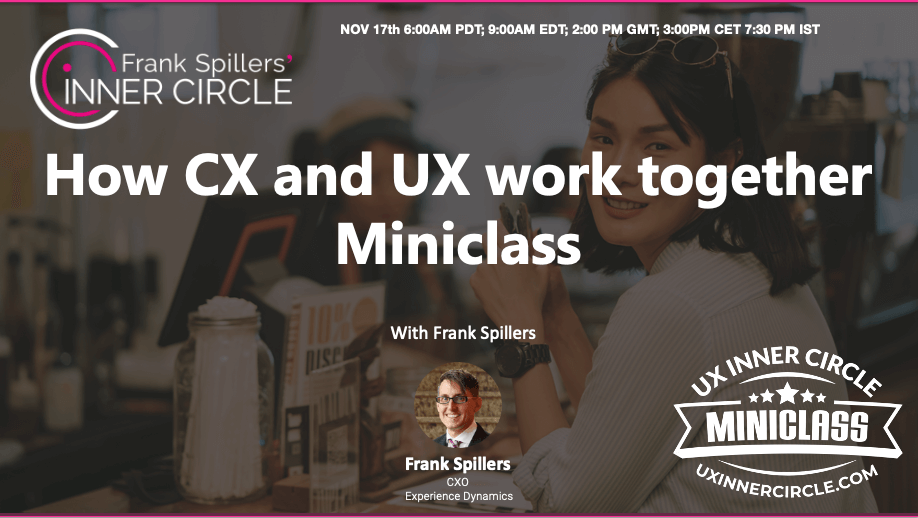 NOV 17th 6:00AM PDT; 9:00AM EDT; 2:00 PM GMT; 3:00PM CET 7:30 PM IST
(Note: That's a little earlier on the West coast!)
30 min
How CX and UX work together Miniclass
Agenda:
Do you work on CX or UX? Are you a CX professional or a UX'er? Is there a huge difference, and does it really matter? Understanding distinctions is important for managers and leaders who work in an industry full of acronyms and terminology. The theme of this Miniclass is to clear up roles and boundaries and to help you explain all of this to stakeholders who use the terms interchangeably.
While CX and UX have similar goals and impacts, their methods, metrics, and approach are very different. Yet, authors, analysts, and LinkedIn groups use the terms interchangeably as if no distinction exists. This Miniclass will help set the record straight. We will look at similarities and differences as well as collaboration opportunities for optimal business results.
Topics we will cover in the Miniclass:
Definitions: what does CX and UX do? (differences vs similarities)
Key differences in CX vs UX
How CX and UX can work together
Q&A
About Miniclasses:
A brief, but deep-dive into a topic, led by Frank Spillers. The sessions provide an orientation to key points on a topic. The sessions are FREE to members of the UX Inner Circle.
---