Back
Problem space discovery in Agile Masterclass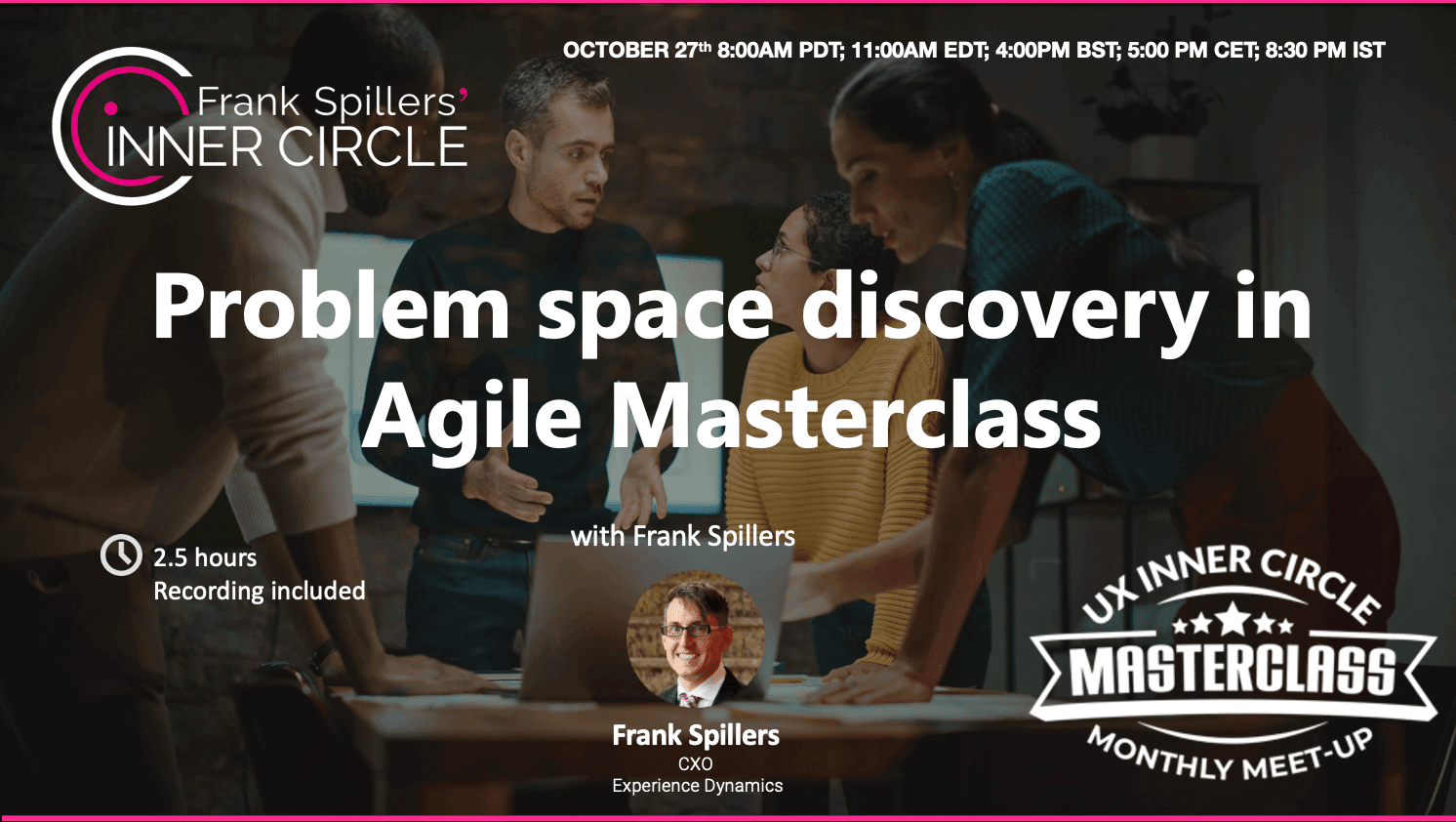 OCTOBER 27th 8:00AM PDT; 11:00AM EDT; 4:00PM BST; 5:00 PM CET; 8:30 PM IST
2.5 hours
Cost: Buy this Problem Space Discovery course and get it live + the recording for only $100** USD:
Free for UX Inner Circle Members–Join now, cancel anytime
Agenda- Problem Space discovery in Agile Masterclass
One of the biggest contributions UX makes to product management efforts is problem framing or how to frame the right problem for users and the business. Many stakeholders mistake asking UX designers to create mock-ups or visuals before vetting business requirements or ideas past the "evidence filter" of user behavior (field study research).  By starting with solutions, we give them credibility and power that they should not have until they are: either tested with users, or based on user constraints and opportunities found in their current problem-solving behaviors and expectations. Instead, we must 'deep dive' into a better understanding of the user's 'problem space' and remove unknowns, ambiguities, biases, and risks.
Understanding the problem space leads to better Agile UX
Poorly understanding the "problem space" means you are guessing or relying on your internal assumptions, hunches, and brainstorms. Or worse, basing decisions on the wrong kind of research (yeah, focus groups and surveys). UX as a field de-risks this very dangerous approach which relies on trusting yourself or internal decision-making unbalanced with a view from the user's world. Problem spaces are rich with context to understand how your features or design proposals will meet actual user needs, with the highest degree of emotional value (differentiation) delivered to users. Regularly mapping the problem space helps you build context intelligence within your team. Products and services that perform start with an understanding of context of use (where, when, how, and why) of how your features, functionality, or service will be used. Framing the problem informed by context is the starting point to ROI-based UX.
What we'll cover- problem framing, how to run a problem space discovery workshop and more!
In this Masterclass, we will cover problem space discovery in an Agile context including how to create more accurate MVP's on an ongoing basis. We will start with problem framing and learn to create problem statements. In this Masterclass, you will also learn how to run a Problem Space Discovery workshop to help guide your organization toward smarter product decision-making.
Topics we will cover in this Masterclass:
Framing the 'right problem' in UX
Making the business case for Problem space discovery
Strategies for managing your stakeholders who jump to solutions without discovery
Identify bias in framing and product decision-making
Introducing Qualitative Research to teams new to UX Research
Doing the right kind of research to identify 'right problems' and understand problem spaces
How to craft compelling Problem Statements
Getting Agile teams to practice with problem-informed MVP
'Continuous Discovery' hacks for Agile
How to run a Problem Space Discovery workshop
About Monthly MasterClasses:
These monthly meet-ups are topic-driven live events with an informal presentation by Frank Spillers and group activities and discussions. Monthly MasterClasses are included as part of your membership. They allow a deep dive into important UX topics, with insights drawn from process best practices and case studies from Frank's two decades in the field.
Cost:
Not a member? $100
Members: FREE…join the UX Inner Circle to get this and enjoy access to $10,385 worth of value- recording trainings from 20 years of Frank Spillers' work.
Buy this Problem Space Discovery course and get it live + the recording for only $100** USD:
Why Join?
The UX Inner Circle is a professional learning community with a program of monthly events for UX researchers and designers, managers, and directors practicing UX and Service Design. We are a small group of 50+ UX and Service Designers, Directors, and Researchers currently 100% working in UX. Attendees come from orgs like Harvard, Google, IBM, Accenture, Deloitte, Capital One, US Bank, healthcare, government, and non-profits. So why join?
Refine or expand your current skills– push the boundaries of your learning.
Get advice and guidance: Put a top-performing UX expert (Frank Spillers, CEO of award-winning UX firm Experience Dynamics and top instructor at Interaction Design Foundation) in your pocket. Stay connected with the latest on what Frank is thinking and prioritizing in UX and Service Design.
Ask anything to other UXIC colleagues on a dedicated private Slack channel. Also, collaborate during monthly meet-ups (Masterclasses).
Get a promotion at work or upgrade your skills, portfolio, or process knowledge. This is the #1 reason folks keep subscribing to the UX Inner Circle.
Ready to Join the UXIC?
30- Day Free Trial (billing starts month 2)
Membership includes access to ALL monthly event recordings and more (going back 20 years of Frank's UX career). 150+ recordings.  Monthly live meet-ups (Masterclass topics) and workshops (every other month). Miniclasses (short webinars) and access to longer webinars Frank provides with his UX firm Experience Dynamics.
Financial inclusiveness membership: USD$49 per month for Nonprofit-Student- or you live in the Global South/ Emerging Market (.org; .edu)
Regular membership: USD$99 Individual per month
20% discount on Annual Price; switch anytime, cancel anytime.
***THIS EVENT IS FREE WITH UX INNER CIRCLE MEMBERSHIP***
---