Back
Hiring for UX & Service Design roles Masterclass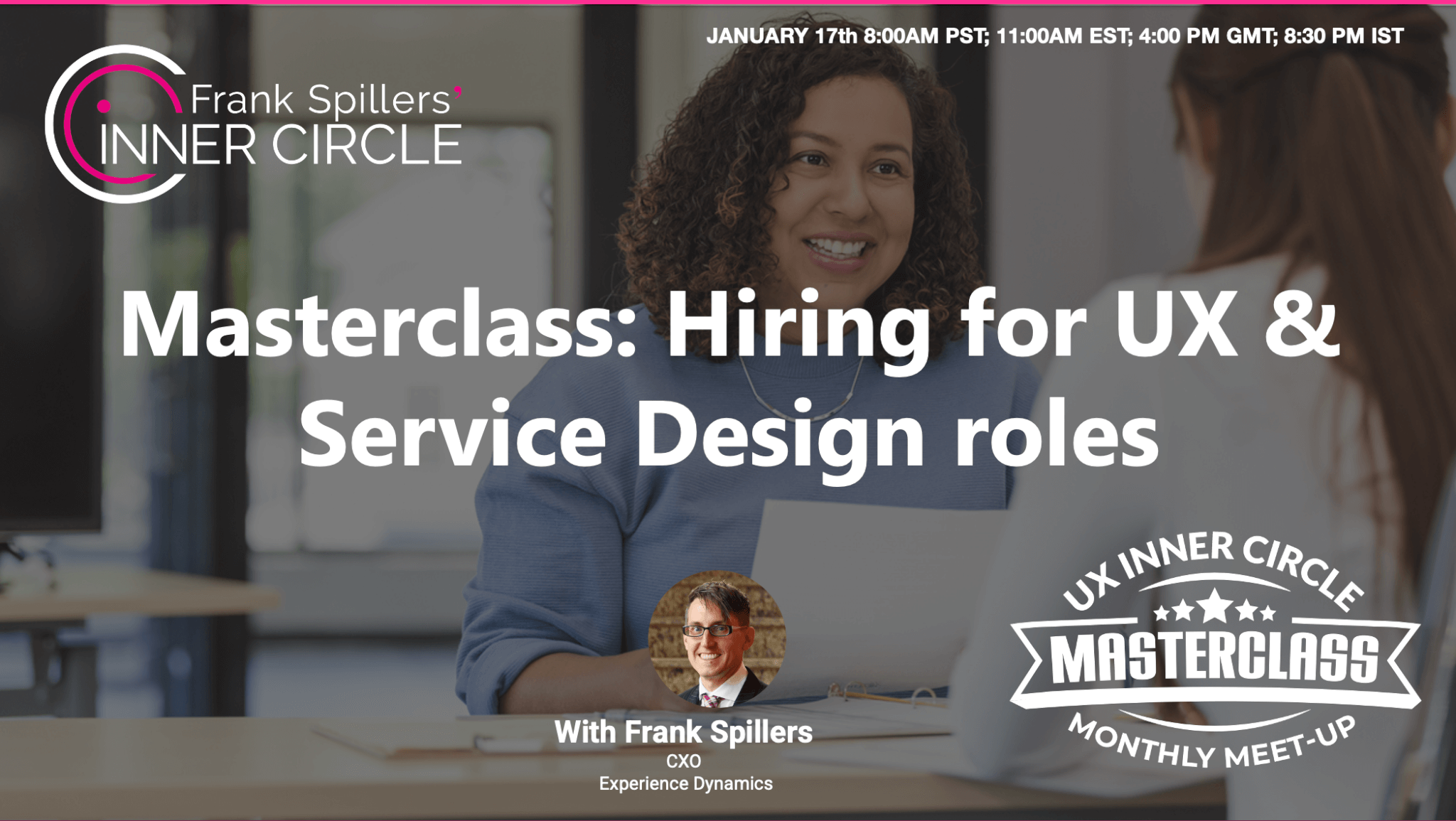 JANUARY 17th 2023 8:00AM PST; 11:00AM EST; 4:00PM GMT; 5:00 PM CET; 8:30 PM IST
2 hours
Cost: Buy this course and attend live or get the recording for only $100** USD:
Free for UX Inner Circle Members–Join now, cancel anytime
Hiring service design and ux design roles
One of the first steps to building a team, expanding a team and managing a UX or Service Design program is hiring the correct roles. Sadly, many hiring managers and organizational stakeholders do not fully understand what they are hiring. An example is a User Researcher. The organization has good intentions but does not fully grasp that UX Research requires embedding into existing Agile processes and using user research as a spearhead for insight-driven decision-making.
As a result, hiring decisions set low expectations or frame the Service Design or UX intervention from a tactical perspective. Missing strategic business functions of Service Design and UX are a mistake and hurt long-term ROI. So how to fix this? In this Masterclass, Frank Spillers will facilitate a discussion on definitions, functions, expectations and also the archetypal mistakes hiring managers make, such as looking for Unicorns.
Topics this masterclass will cover:
Crafting a Hiring strategy: aligning HR, Product, Engineering or internal stakeholders
Job descriptions: good and bad
Classic mistakes in hiring Service Designers, UX Designers, Visual Designers, User Researchers, UX Writers, and more…
Role expectations: Service Design and UX Design
Tips for saving time, boosting ROI, and creating an ideal employee experience
About Monthly MasterClasses:
These monthly meet-ups are topic-driven live events with an informal presentation by Frank Spillers and group activities and discussions. Monthly MasterClasses are included as part of your membership. They allow a deep dive into important UX topics, with insights drawn from process best practices and case studies from Frank's two decades in the field.
Cost:
Not a member? $100
Members: FREE…join the UX Inner Circle to get this and enjoy access to $10,385 worth of value- recording trainings from 20 years of Frank Spillers' work.
Buy this Hiring for UX & Service Design roles Masterclass and get it live + the recording for only $100** USD:
Why Join?
The UX Inner Circle is a professional learning community with a program of monthly events for UX researchers and designers, managers, and directors practicing UX and Service Design. We are a small group of 50+ UX and Service Designers, Directors, and Researchers currently 100% working in UX. Attendees come from orgs like Harvard, Google, IBM, Accenture, Deloitte, Capital One, US Bank, healthcare, government, and non-profits. So why join?
Refine or expand your current skills– push the boundaries of your learning.
Get advice and guidance: Put a top-performing UX expert (Frank Spillers, CEO of award-winning UX firm Experience Dynamics and top instructor at Interaction Design Foundation) in your pocket. Stay connected with the latest on what Frank is thinking and prioritizing in UX and Service Design.
Ask anything to other UXIC colleagues on a dedicated private Slack channel. Also, collaborate during monthly meet-ups (Masterclasses).
Get a promotion at work or upgrade your skills, portfolio, or process knowledge. This is the #1 reason folks keep subscribing to the UX Inner Circle.
Ready to Join the UXIC?
30- Day Free Trial (billing starts month 2)
Membership includes access to ALL monthly event recordings and more (going back 20 years of Frank's UX career). 150+ recordings.  Monthly live meet-ups (Masterclass topics) and workshops (every other month). Miniclasses (short webinars) and access to longer webinars Frank provides with his UX firm Experience Dynamics.
Financial inclusiveness membership: USD$49 per month for Nonprofit-Student- or you live in the Global South/ Emerging Market (.org; .edu)
Regular membership: USD$99 Individual per month
20% discount on Annual Price; switch anytime, cancel anytime.
***THIS EVENT IS FREE WITH UX INNER CIRCLE MEMBERSHIP***
---