Back
Differentiating your UX with Sociability Masterclass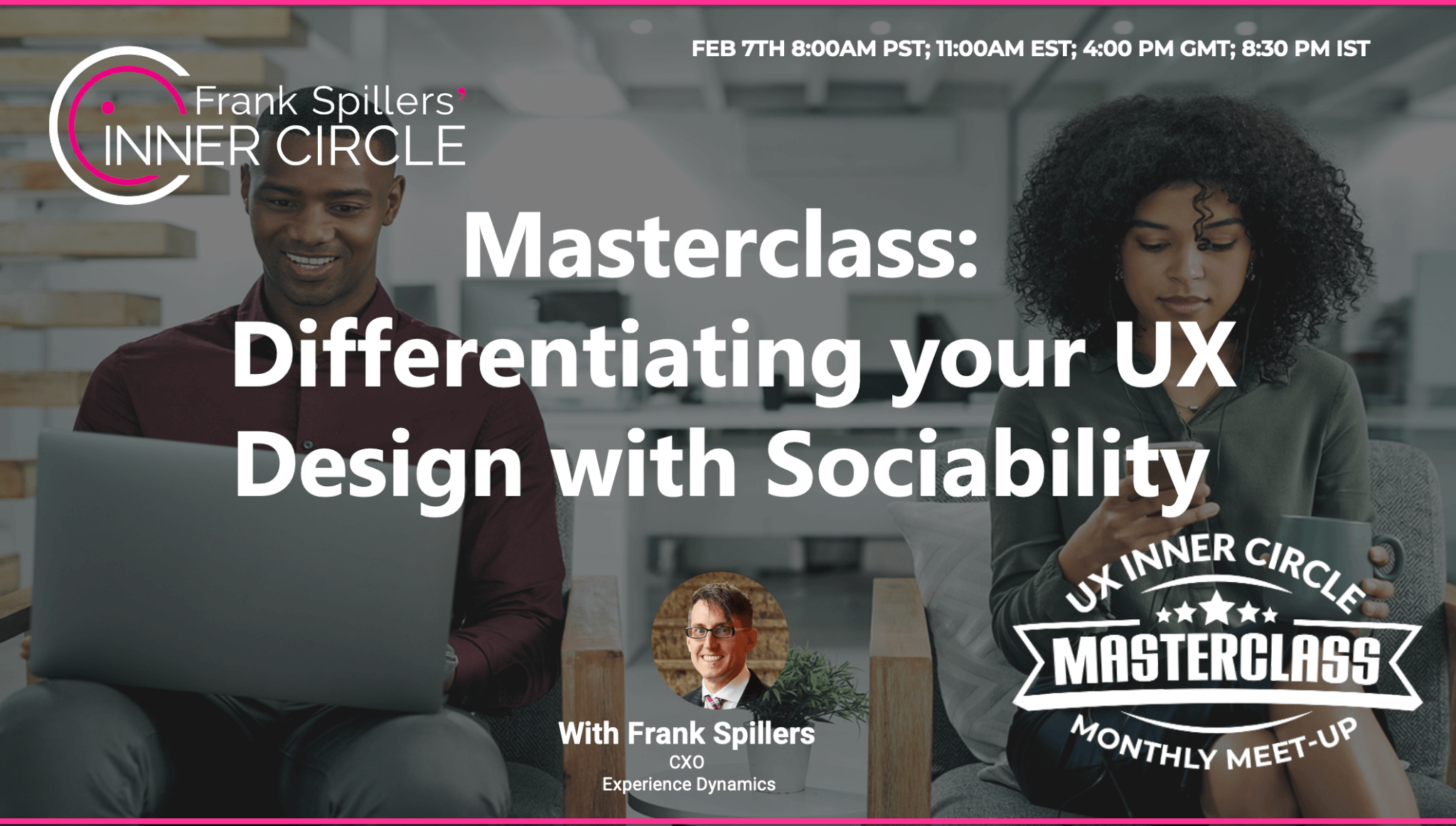 FEB 7TH 8:00AM PST; 11:00AM EST; 4:00 PM GMT; 8:30 PM IST
2 hours
Cost: Buy this course and attend live or get the recording for only $100** USD:
Free for UX Inner Circle Members–Join now, cancel anytime
Why improve social interactions among users?
Sociability describes the quality of social interaction between users while using a design or user interface (UI) to achieve a task. It's helpful to think of sociability as the exchange of information or value between users. First, it is important to ensure users can actually interact and maintain expectations for social interactions as they do in the real world. Second, providing elegant social interfaces can improve sociability among users, leading to more successful experiences, interactions, and transactions.
Poor sociability includes non-existent or poorly designed ways to interact or collaborate with other users. Uber, for example, for many years did not support in-app chat between passengers to drivers, making coordinating pick-up points difficult and frustrating for both sides.
Why sociability is important in B2B experiences too
Sociability can be as painful in B2B experiences as in B2c. For example, a doctor and nurse practitioner not being able to easily share patient records, or follow each other's asynchronous comments. Or a doctor not being able to properly assign access to patient data within the doctor's office, in order to comply with healthcare privacy regulations.
An example of this from an Experience Dynamics field study, at a doctor's office a few years after iPads were all the rage: "We have a stack of iPads just sitting there, unable to use them because all the data is shared and it should not be due to differing priveledges by role (and iPad is stuck in a single-user model)". The issue of "multi-user" support was never adequately addressed by Apple, yet Netflix, Spotify, and others support "Family" or multi-user support. Microsoft Windows was one of the very first to introduce multiple user profiles for log-in, now a feature we find in Netflix, and barely noticeable.
So sociability, or being able to interact with other users is critical but also a matter of differentiation.
Ignoring sociability-the 'missing UX requirement' can hurt
Poorly addressed or ignored sociability creates a missed opportunity to differentiate UX. Classic issues with social exposure include threats to privacy, social expression, and harm to communities that have a history of being marginalized or left out. Without good sociability, you can struggle to provide the right social interface features and interactions that enhance collaboration, protect and enable user interactions and improve your users' well-being.
In this Masterclass, we learn about how to identify and approach sociability strategically in UX and Service Design. Frank Spillers will share examples of his approach to determining and designing social UI's so that you can elevate them as a product or service differentiator. Frank did his Master's degree in collaborative virtual environments and for 25 years has been bringing sociability and collaborative UI strategy to his work. This is the first time he has released this information comprehensively as a Masterclass.
Topics this Sociability masterclass will cover:
What does good sociability look like? (for consumers, business users, and employees)
How to determine requirements for sociability
Designing supportive social interactions (in the design of products and service experiences)
Social media sociability vs. Mobile, VR/AR, and Gaming
The difference between online communities/ groups and designing 1:1 user interactions
Criteria for innovating and differentiating with sociability
About Monthly MasterClasses:
These monthly meet-ups are topic-driven live events with an informal presentation by Frank Spillers and group activities and discussions. Monthly MasterClasses are included as part of your membership. They allow a deep dive into important UX topics, with insights drawn from process best practices and case studies from Frank's two decades in the field.
Cost:
Not a member? $100
Members: FREE…join the UX Inner Circle to get this and enjoy access to $10,385 worth of value- recording trainings from 20 years of Frank Spillers' work.
Buy this Sociability Masterclass and get it live + the recording for only $100** USD:
Why Join?
The UX Inner Circle is a professional learning community with a program of monthly events for UX researchers and designers, managers, and directors practicing UX and Service Design. We are a small group of 50+ UX and Service Designers, Directors, and Researchers currently 100% working in UX. Attendees come from orgs like Harvard, Google, IBM, Accenture, Deloitte, Capital One, US Bank, healthcare, government, and non-profits. So why join?
Refine or expand your current skills– push the boundaries of your learning.
Get advice and guidance: Put a top-performing UX expert (Frank Spillers, CEO of award-winning UX firm Experience Dynamics and top instructor at Interaction Design Foundation) in your pocket. Stay connected with the latest on what Frank is thinking and prioritizing in UX and Service Design.
Ask anything to other UXIC colleagues on a dedicated private Slack channel. Also, collaborate during monthly meet-ups (Masterclasses).
Get a promotion at work or upgrade your skills, portfolio, or process knowledge. This is the #1 reason folks keep subscribing to the UX Inner Circle.
Ready to Join the UXIC?
30- Day Free Trial (billing starts month 2)
Membership includes access to ALL monthly event recordings and more (going back 20 years of Frank's UX career). 150+ recordings.  Monthly live meet-ups (Masterclass topics) and workshops (every other month). Miniclasses (short webinars) and access to longer webinars Frank provides with his UX firm Experience Dynamics.
Financial inclusiveness membership: USD$49 per month for Nonprofit-Student- or you live in the Global South/ Emerging Market (.org; .edu)
Regular membership: USD$99 Individual per month
20% discount on Annual Price; switch anytime, cancel anytime.
***THIS EVENT IS FREE WITH UX INNER CIRCLE MEMBERSHIP***
---